"Kapitan club" journal. Grizzly 660 Jet. For cataracts and shallow waters #4 (92) 2015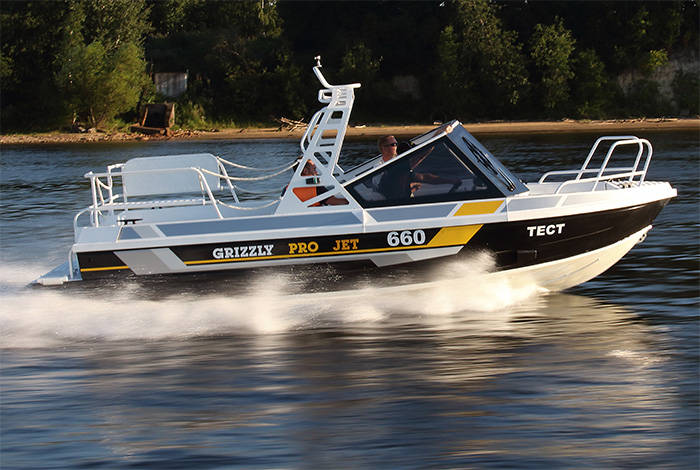 Grizzly boats made by the St. Petersburg shipyard on the banks of the Neva time do not need a special introduction. A wide range of boats has spread throughout Russia. However most of them are equipped with outboard motors. Meanwhile there are a lot of places where the use of water jet propulsion unit is connected to the operating conditions. Just for such conditions an open version of 660-th Grizzly hull was released, equipped with the gasoline water jet.
Traditionally while testing the boat a test driver "talks" with it only a couple of hours or less. I was lucky enough this time to spend a day at the steering wheel and to make quite extended transition from the parking lot in St. Petersburg to Lake Ladoga. It is more than 100 km in various modes. There were mooring, refill on the water, maneuvers, landfalls in the real conditions. It was much more interesting and impression of the model was much more complete.
It's good when producer's output has its own recognizable style. Grizzly has it. There are a lot of aluminum boats, especially in the US market, but most of them are difficult to identify at a glance. Powerful hull of 660 th is already familiar to me in a version with logging and outboard motor. But this time the boat was completely open, that distinguished it from the general line of the company. This concept appeared earlier in North America. In many northern rivers of the overseas continent rigid aluminum boats equipped with water jets are quite popular. They do not have often a cabin and they serve different purposes: fishing, patrol, boat trip. Our country (e.g.Siberia) gives odds to many countries by the variety and extent of rivers teeming with their shoals and rapids. And fishing is not here in the first place. Boats of this class can be used to serve remote databases, including tourist baser, and for other purposes that require rapid and safe movement along a difficult area. Such harsh operating conditions only strong and rigid hull is capable to sustain. And of course it is possible only in tandem with the jet that allows to storm rolls and just shallow areas fearlessly.
The concept was quite clear to me even before full-time acquaintance with the boat and I said many times in previous articles about the performance. PRO series boats, made entirely of aluminum and equipped with modern, reliable and proven components, talk about their professional designation only by their names. Powerful welded radar arch immediately catches the eye and visually divide the boat into two zones. Navigation devices, cockpit lights or headlights, navigation and radar antenna can be installed in the arch. At the same time it can be used as a targa for spinning.
Windshield separates the cockpit from the front part. The two consoles are separated on the sides, and the passage in the nose is made in the center. This technique is quite common. Such alignment can rightly be called universal for boats of this class. Captain's and passenger'snseats have lateral support and hold on excellent a fisherman during transitions in tough conditions.
Behind the seats along the sides two sofas are installed. On each of them easily a couple of people can seat. Thanks to special items space between the sofas turns into a quite spacious bed. For amateurs of picnics on the water the table is set between the sofas.
The front part is almost not busy, except of casting platform on the sides of folding cans that can fit two fishermen without interfering each other, that I was able to see myself.
The space on the boat is planned very reasonable. In spite of the open hull there are a lot of place to locate the equipment and easily to put things. Bow hatch can take easily a heavy anchor and a significant amount of rope. Under the bow cockpit there is a spacious locker. Unfortunately we could not put in there the spinners, but it was easy to put there a couple of tents or anything else. There are three "dry" lockers are arranged in boat consoles, you can be sure that documents and other things that require careful treatment could not get wet. Two large lockers are hidden under the seats. In each of them two medium sized bags can be placed. Two large lockers were found on the boards of front part: one of them easily got up two 20-liter plastic cans and a room still left.
In the central part of the front cockpit there is the hood that provides access to the engine. Finally on the sides of the central part there were different niches found, in which two tubes with spinnings, usually interfering during transitions, laid.
I can not fail to note yet another detail that can rightly be attributed both to the aesthetic component and to the practical. The deck is covered with a special rubberized polymer material instead of cold and slippery metal, making the cockpit even cozier and warmer. These makes a boat safety and convenience while moving around the deck. Naturally, the coating is easy to clean and quickly dries.
It is difficult to say what weather is better for the test, but it is known, it can't be chosen. On the day of our departure was hot and calm. So we skipped on the surface of the Neva up to the castle Oreshek. And only in Ladoga there was a place with a ragged wind wave. However, the boat is designed primarily for river and we should evaluate it on the river.
Water jet propulsion unit has a number of features in operation. For those accustomed to outboards, including me, it is not simple to reorganize immediately the water jet. One major advantage of it is that it is not so capricious to the boat load. Leaving the parking lot with almost empty tanks, we got some time to one of the refills on water. After filling the tanks at the rate of 150 liters the speed has not changed, however, time to coming to hydroplaning increased markedly.
At full speed the boat behaves itself predictably and is managed easily, keeping the trajectory of a straight line and during maneuvers. At some point in the expanse of Lake Ladoga there were sharp wind waves. Its height barely exceeded 30 cm. In such circumstances Grizzly behaves predictably: it doesn't scour, keep course, so you may not to keep steering wheel even at full speed.
The engine capacity of 220 liters doesn't give the boat to take a run – all this is not enough for quick starts. A selection of this power is a matter of efficiency only – both in terms of total cost (less than 2 million), and in terms of fuel economy (something about 60 l / h at full speed). Fans of the more "sportive" walks may set motor of higher power, as the boat is designed for it.
In the same configuration the boat spends about 10-12 seconds to access the planing mode, and the trim in the transitional regime is not too noticeable, good visibility is maintained in all modes. One of the main problems of the boats equipped with water jets is not very good handling at low speeds. Moreover, my experience with such engines is not as significant as with the boats equipped with classic motor or "permanent establishment." However, all the maneuvers in a crosswind and tangible Neva flows were carried out without problems. And mooring at the refueling and after the approach to a small marina on the banks of the Neva was OK. At the end my task was to take the boat to swim platform of 60-foot yacht. It turned out pretty simple. Thus the engine in the "low speed" has got a pass.
By maneuvering at full speed the boat will give odds to many of those that I was able to test before. However, an important role in this is played by water jet that allows just do a turn on the spot.
SUMMARY
New boat perfectly fit to the family of PRO Grizzly boats. A solid workhorse, which is able to serve for fishing amateurs and for those who prefer boating. I can not ignore the another important and relevant component – the cost. Grizzly has a huge advantage in this indicator over Western ones – the price of the test kit is two million rubles. As for quality, I don't know any producer in the Russian market that can boast the same high level of performance.
Tough and rugged hull allows you to approach fearlessly the shore, without fear of damage, and water jet opens the way to places previously inaccessible to conventional outboard engine.
TEST RESULTS
Grizzly 660 Jet
Load – 4 people plus 150 liters of fuel, the engine – MerCruiser MPi 4.3 (220 hp) with water jet installation American Turbine SD 231, the temperature +22 ° C, water temperature +18 ° C, wind speed 2.1 m / s, the wave height 0.1 m, water area – Neva river, St. Petersburg
Sph
Speed
knots
km / h
500
2.0
3.8
1000
2.6
4.9
1500
3.9
7.2
2000
5.1
9.5
2500
6.2
11.6
3000
7.4
13.8
3500
14.1
26.0
4000
21.0
38.9
4400
30.3
56.0
Grizzly 660 Jet
Length, m
6.6
Width , m
2.15
Plating Thickness
6
Weight with engine, kg
1200
Fuel capacity , l
150
Passenger capacity , pers .
8
Maximum engine power, hp
250