"Kapitan club" journal. Grizzly 820 is in time cruiser #5 (87) 2014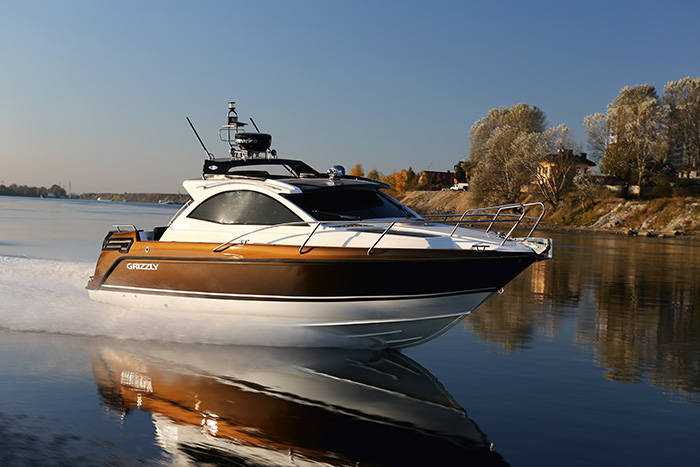 A few years ago I was in sunny Miami and we had a journey with our friends to the islands of Florida-Kis. And one thought was in my head: why can't our country produce comfortable and beautiful boats, but just offers to the market year after year a product "for boots"?
The question was rhetorical until in the end of navigation 2014 I was invited to get acquainted with the new product of St.Petersburg shipyard with interesting name Grizzly. The wide model range of the company offers boats with aluminum hull for fishing and water rest. A true attention is given to the question of esthetics, however embodiment before has been in frames of "work boats for fishing" with all ensing consequences. That is why I didn't wait to see a cruise boat, when I went to get acquainted with this novelty of imposing dimensions. And my surprise was much stronger, when I saw a boat that was not in «Made in Russia» style in one of the Saint Petersburg yacht-clubs. At the end of my tongue were words about the fact, that boat has no differences of those made abroad. But… everything should be in its order.
EXTERIOR AND INTERIOR
You wait for maximum from cruise boat's aesthetics as its destination is to make people on shore or on board of another boat to look enviously at it. Aluminum has a lot of opponents, partly because of the shipyards that make awful weds reducing to nothing all gracefulness of the hull. In this boat you can hardly say what kind of material is in front of you. Unusual colour of the hull is also an advantage as it plays with different tones from black to golden while different reflection of sunbeam. Top is made in the same style. Stylish guard rail, big radius side windows give impetuous look to a craft.
The concept of the hull differs from ones at classical cruise boats. Концепция корпуса отличается от таковой на классических круизных катерах. A cabin, which has on its top powerful navigation antenna, headlamp and sonorous hooter, places here the most part. Fore-deck is closed, but you can lay here mat for tanning. All the more Grizzly 820 is typically walkaround and to make this maneuver is really simple, in that I has determined.
350-motor Verado from Mercury finishes this futuristic view. The Americans can combine power and aesthetic and in this case the motor harmonizes with the boat. Quite spacious swimming platforms are carried out for two sides of the motor. It is impossible to name cockpit in front part a big one, but there is a place for sofa and table with integrated glass-holders. A back wall of the cabin and a door to a cabin are made at angle of front part, that gives to model unusual design and distinguishes it from angular-rectilinear aluminum "brothers" from North America.
All necessary set of option, without which you can hardly imagine any cruise boat or "work boat" of such size, is inside. There is a compact galley, a latrine. On its left board there are two vis-à-vis chairs, departed by table. On it right there is traditional modern and stylish steering post. And there is one of the prettiest things on the boat for me. The boats, produce in our country and in many European or Asian countries are marked by very modest design of steering post. Our Grizzly 820 is more relative in this with "Americans".
The fore body is let for "master-cabin", but it doesn't have hard partition of the cabin. That is why it is more comfortable to voyage in the boat for two during autonomous trip. But in general there is enough place here to make a noisy party.
I would like to mark also a pretty inside design. All furniture and interior element are made in Russia, that is gratefully particularly due to the last geopolitical events. Being yet on the shore I made an intermediate total – we had learned to make at last. I was also a holder of cruise boat with "foreign registration" not far ago, and this class of boats was the most interesting for me. That is why it was very pleasant for me to mark, that we had something to show at the world market. But first of all we should to check our boat on the move.
A BOAT FOR CITY TRAFFIC
It was obvious that such boat would be popular among people who have their "steamers" in the yacht-clubs of Moscow, Petersburg and other big cities on rivers and water reservoirs. That is why our nominal test-drive we had at the water of full-flowing Neva under the bridges, joining left and right shore of Northern capital. If to talk about car, I should talk in the part devoted to the driving test, about capacity and volume of the motor. But in case of boats we talk only about capacity. From first sight 350 hp – is a good level, but it's obvious that this boat can do more. In our case there was not enough capacity for quick start. The boat, like a limousine, smoothly take a speed and come to gliding. But to determine this moment you can only by watching stern wake. The boat takes its highest speed also smoothly. And with 6000 rpm its speed is more than 85 km/h , in comfort regime (4000 – 4500 rpm) – approximately 63 km/h. It is more than deserving.
Steering is of course not for amateurs of drive and extreme races, but it's logical for cruise boat. Direction stability is excellent, also in turns. In spite of stream in Neva 820 goes like on road. There is no porpoising that is so characteristic for the boats of such size, even with open motor. And transom platforms were also in elevated position. Maneuvering is good, the boat listened the steering wheel, comfortably coming to turns. I tried to find any disadvantages in steering but unlikely. The boat passed the test, and I have a wish to try it with the motor of bigger capacity or with double motor, that is really popular for crafts of such class.
LAST SURPRISE
This day on the board of the boat let me to take pretty emotions and to determine in the fact that we can conquest with west producers in maintenance, design and quality. But one of the important thing and unpleasant surprise for many people is a price. Many boats of this class are in the price category with seven nulls. But suddenly we had a great surprise. Instead of empyrean prices the producer of Grizzly 820 informed us that base option of this boat is just на (!) 1,95 million roubles. If we add a motor we take fully comfortable cruiser with good design and great operating characteristics.