"Osnovnoy instinct" #3 March 2009 – Grizzly 470 – safe easygoing boat but not a bear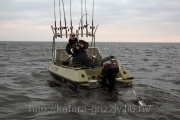 Fishing, hunting, but simply rest on the water – there can not do without a reliable boat. On what to choose? Allow this problem will help St. Petersburg company that manufactures small multipurpose boats with hulls made of light alloy for outboards.
Today we will focus on the boat «Grizzli-470." Motor boats of this model may be of two types – the average zadnekonsolnymi. The boats are almost identical to well-known European counterparts, and that they are made in Russia, in the first place, just as a human nice: it is our manufacturer, if he wants to work at such a high level! And secondly, what is no less important, to pay for domestic "bear" you have much less than its foreign counterpart. So, what do we have? The boat weighing 330 kg is designed for 5 people. Its length – 4.7 m, so it can be stored in any standard garage. And another important point: the size of the boat and a trailer for its transportation allow to transport it without the need for the rights of the "E" category. The two-component design – the case is made of special marine grade aluminum, and the inner member of plastic makes the boat exceptionally durable, comfortable and safe, and allows it to operate in very severe environmental conditions. the bottom width – 4 mm, sides – 3 mm. Zigovannye boards, which gives extra rigidity, this also contributes to the robust set of longitudinal and transverse frames. By welding anywhere, including the most complex areas, will not carp. hull design allows the boat even when fully loaded glide easily through the water. Top boats (bath) is made of polished plastic, produced by the Finnish GELOCOAT technology. Of particular note is the stability of «Grizzly». Remember the tragedy of Russian folk songs "Let's go, babe, go"? Well, the instructive story about how offended lady, catching wheel in the wrong seducer, in the storm sent a boat to the open sea, and in the morning rocked on the waves only slivers of the shuttle? Remembered? So, in the «Grizzly» you can safely ride even the most vengeful beauties without fear of negative consequences. These boats are absolutely unsinkable. Sways their maximum load, fill with water – in spite of all these efforts will not be able to sink. You can not think about the even distribution of cargo safely navigate the boat and moor where you want – whether it's jetty or rocky. This provides buoyancy foam polyurethane, which are filled with side and bottom of the boat. And insure you, strengthen security, anti-slip coating on the bow and stern. With such reliability boat – fast and maneuverable: 5-6 seconds goes to hydroplaning, fit into the rotation, even at maximum speed, easy to perform stage maneuvers, including "snake" and "eight". This structure is stable on course and is not inclined to porpoise.
parking load (the same scheme used and on «Grizzly 580R»).
The basic equipment «Grizzly470» includes:
– Steering with a steering cable with motor up to 60 l / s;
– 4 side and rear stainless steel railings;
– 2 windscreen;
– Bow box at anchor;
– Bow and stern lockers;
– 4 mooring cleats;
– Cushions on the seats;
– Control panel with a cigarette lighter and a voltmeter;
– Running and masthead lights;
– Electropomp;
– Disconnect switch with a key;
– A box under the battery.
[Detail all the features of the model «Grizzly470» boats with photos on the site of the manufacturer of aluminum boats the Grizzly] [1];
But an additional transom by a small motor, transom platform (crinoline) and stationary welding a fuel tank of 60 liters – it is an option. In addition, you can optionally install floodlights, audiovisual equipment, tents (chassis and shipping), Stainless Steel Targa lifejackets. Fishing enthusiasts probably will not do without holders for spinning and trolling equipment. You can order and completing the catalog «Maritim», as well as a complete set of new or little used / have motors. In the basic version the boat body is made of white plastic, but you can show individuality, choosing for his "bear" any color from the RAL table. Which, depending on your goals: whether you want to keep your boat stand out, surprising the others, or, on the contrary, was the least noticeable. Another important in this life to the eternal time pressure point: modern processing cutter coatings minimize its maintenance. Suffice a simple washing, and it will shine like new. Well, finally, we note that this model is on the market for three years. During this time, the consumer has appreciated her running, seaworthiness and, of course, absolute comfort for passengers. This wonderful boat is ideal for fishing, hunting, transportation of goods, and outdoor activities. And we hope that after the publication of our fans she will be even greater.
The original text of the article: Olga Borisova