"Osnovnoy instinct" #9 September 2009 – Grizzly 580 – the dream of fisherman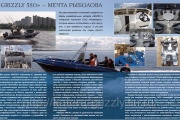 We have already introduced the reader with the model number of universal GRIZZLY boat of St. Petersburg company OOO "Akvamarin " (http://www.grizzly-marine.ru/katera/), which can be used for walks and for family rest.
And for amateurs of fishing these boats are ideal.
All GRIZZLY models are made on the basis of the aluminum bottom . Plastic top, ie the hull of the boat is made of aluminum-magnesium alloy and the bath – from polished plastic produced by the Finnish GELOCOAT technology. Board forming gives additional stiffness to the hull. This design allows the boats to glide easily through the water even with fully load and not to be afraid to approach strangers rocky shores. In general the reliability and safety of these boats are marked as principal plus by their owners.
Fans keep their experiments to the end and have recognized that they have tried by several "male" power to rock the boat and to load it to the eyeballs but unsuccessfully : «CRIZZLY» was truly unsinkable!
These boats are steady on course, have no tend to porpoise, enter easy into a turn, even at maximum speed and are obedient to operate astern. Model "GRIZZLY 580" is presented in three versions. We will try to introduce you briefly to each of them.
["GRIZZLY 580 FISHERMEN" boat] [2] is an open boat with a double-seat console, located in the center of the boat.
In this rather wide console it is easy to fit all large navigation Electronics necessary for fishing: depth sounder with a large display, speaker system and the main motor devices – tachometer, trim-pointer and a fuel gauge (not to be repeated further, we note that panels of the other two versions of this model are as well suited to the installation of such equipment). Semi-circular seats are formed in the corners instead of front seat. This solution extends already very spacious cockpit. You can arrange all things taken to the journey in the locker, which are supplied in a great amount. The cockpit of the boat is self-draining and have lockable scuppers; thereby to fill it with water is not able with all diligence. "GRIZZLY 580 DC" released last spring. It differs from the model described above by two side consoles.
["GRIZZLY 580 CRUISER" boat] [3] is a comfortable "brother" of open "GRIZZLY 580″.
The cabin is quite roomy. The design of the V-shaped sofa allows to convert it into a bed 1,55 m x 1,95 m. Steps for sliding cabin doors allow easy passage to the broad nose platform. Very efficiently space recess is organized (self-draining sub-niche) – folding sofa is placed in the niche, a section of which is raised if you need to access to the motor. This substandard solution led to the space in the cockpit damaging of experts (which is, as in the public versions, self-draining). At the same time there is enough number of lockers in the cabin and cockpit. In addition to the basic version, which includes all the necessary equipment for navigation, "Akvamarin" offers to the buyers a wide range of options that will help to spend time on the water with great comfort and for fishing amateurs also with use.
You can equip the boat with all sorts of devices for fishing, for example, holders for spinning, equipment for trolling. In addition, it is possible to supply it with navigational equipment, radio with a water proof speakers, heater, searchlight with remote control and conveying a hot tents and trailer.
Well, these worthy boats have proved to be excellent in the case.
And if we take into account that Grizzly boats are much more attractive for their price and not yielding to Western counterparts then this boat is beyond price!
## Specifications of boats models:
**"GRIZZLY 580 FISHERMEN», «GRIZZLY 580 DС», «GRIZZLY 580 CRUISER"**
Overall length – 5.80 m
Overall width – 2.25 m
Freeboard – 0.90 m
Deadrise – 19º
Number of passengers – 8 people.
Transom height – 510 mm
Weight – 620 kg ( in "580 CRUISER" model – 750 kg)
Hull – welded
The bottom width – 4 mm
The thickness of the board (forming) – 3mm
Recommended motor power – 80-150 hp
Maximum speed – 84 km / h
STANDARD EQUIPMENT **: **
– Plastic color – white;
– Steering with a steering cable for motor up to 200 hp;
– Stationary fuel tank of 140 liters;
– The side rails;
– Windscreens – 2 pcs. ;
– Bow box at anchor;
– Bow and stern lockers;
– Mooring cleats – 4 pcs. ;
– Anti-slip coating on the bow and stern;
– Cushions on the seats;
– Control panel with voltmeter;
– running lights;
– Electropomp;
– Disconnect switch with a key;
– Box for the battery
** OPTIONS **
– Lighter;
– Audiovisual equipment;
– Installation of remote-controlled spotlights;
– Tents;
– Additional transom with motor;
– Ladder on the transom;
– Holders for spinning;
– Navigation equipment;
– Equipment for trolling;
– Hatch in the cabin (in "580 CRUISER " model)
The original text of the article: Olga Borisova