"Osnovnoy instinct" journal #1 September 2010 – "Osnovnoy instinct" journal – The boat-winner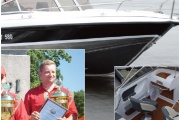 The team Akvamarin on the boat Grizzly 580dc has taken first place in the first stage of race between the teams of small-sized crafts producers in the regatta "From the Baltic to the White Sea", that took place after 20 years of the Russian Rescue Corps.
GRIZZLY 580dc – this is one of the latest models of boats GRIZZLY, who had to find the highest recognition from our customers. Perfect a universal aluminum boat for fishing, hunting and, at the same time, walking on water and fun.
The boat was designed for operation in the troubled Baltic Sea and the largest oze- tures Europe Ladoga and Onega. He has a very high speed and seaworthiness. The bottom and side cutters are made of special marine alloy aluminum thickness of 4 mm and 3 mm, respectively; set housing is designed with a large reserve of strength. Sophisticated ergonomics of the internal space of the boat makes it comfortable size Stith up to 8 people, and a record amount of lockers – 1350 liters, which is unique in this class. GRIZZLY 580 DC is ideal for long journeys thanks to the integrated water tank of 140 liters.
This allows easy boat to operate in the harshest conditions. This has been repeatedly confirmed in customer reviews, popadav- Shih on a boat in a storm on the above vodoe- max. That is why services such as MES, GIMS, MIA, bought for their arduous task of professional reliable boats GRIZZLY 580 DC.
High interest and consumer demand are due nym also individual approach to each order (this, incidentally, is a fundamentally important condition of the work). You can change almost any basic option (plastic color powder coating body, color labels, and so on. P.), And thanks to the wide range offered by the company of the accessories each buyer will be able to equip and prepare your boat for all operating conditions.