Test-drive of "SUZUKI" motors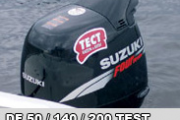 At the end of June on the basis of rest "Vasilsursk Sloboda", located at the confluence of the Volga and Sura 150 km from Nizhny Novgorod, were competitions in sport fishing, which organized the Nizhniy Novgorod company "Aquaria", "Suzuki Marine" official dealer. It is not surprising that on the transom the lion's share of boats occupying berths gostinitsypoplavka, adorned with motors of this particular brand – organized a large-scale test-drive took the opportunity to "Aquaria" with the support of the official distributor of "Suzuki Marine" company in Russia "stingray" for competitors and generally all comers. Without distracting from the overall style and the grand prize, designed the luckiest fishing crew – collapsible naduvnushka "Suzumar 320" bundled with the popular two-stroke "Suzuki DT15". Among the invited guests were representatives of the "cue" that tested the three four-stroke models with the index of "DF" – capacity of 50, 140 and 200 hp
Total audience was invited to try out the nine boats with six different engines "Suziki". As the test vessels were inflatables "Suzumar", two models RIBov Nizhny Novgorod company "LS-Boats", already visited on our "measured mile" boat "Harpoon" Nizhny Novgorod production company "Plast" (sm. number 181) issued in St. Petersburg "Silver Fox", American "Wellcraft 210 Fisherman", Samara provided by "Chico", and two good old "Kazanka-5M4". Selecting the "cue" – powerful chetyrehtaktniki – explained primarily the growing popularity of this type of motors among the owners of motor boats of 5-7 m length, the number of which is growing the fastest in the country.
Obtained during drafting test numbers are reflected in separate tables. Summarizing and objective data obtained with the help of an impartial instrument, and personal feelings in the first place can not fail to note the low level of noise and vibration distinguishes tested motors. It seemed that at idle the sound level meter longer reacted to the sound of water flowing out of the control holes, rather than the soft rustling of the engine. Even at full throttle in order to hear the other party, practically had to raise his voice. Another plus chetyrehtaktnikov "Suzuki", due to the efficient work of the distributed injection – a smooth and steady acceleration. Even with a sharp start from a place none of the motors is not "choked" and not decayed than usual sin chetyrehtaktniki carburetor.
Basic data "Suzuki" tested engines:
Model
"Suzuki DF 50"
"Suzuki DF 140"
"Suzuki DF 200"
engine's type
four-cycle
Number of cylinders
3
4
6
cylinder arrangement
Vertically in series
V-shaped (55°)
Displacement, cm3
814
2044
3614
Bore / stroke, mm
71/68.6
86/88
95/88
Max. power hp/rpm
50/6200
140/6000
200/5500
Timing system
DOHC, 4 valves per cylinder
Supply system
Multi-point injection with electronic control
Ignition system
Electronic
The volume of oil in the crankcase, l
2.2
5.5
8.0
Gear ratio
11:25
2.38:1*
2.29:1*
Generator
12 В, 18 А
12 В, 40 А
12 В, 54 А
Step used screws, inches
9-16
15-24
17-24.5
Weight, kg:
– From Deadwood S (transom 0.38 m)
107
–
–
– With deadwood L (transom 0.51 m)
110
186
–
– With UL Deadwood (transom 0.64 m)
–
191
263
– From Deadwood XX (transom 0.76 m)
–
–
268

* The total of both gears** Complete with GW (for "DF200" – steel), gas-reverse machine, multi-function tachometer and trim position indicator.
"Suzuki DF50", HS – Aluminum three-blade pitch of 15 inches
Test the boat: "Silver Fox DC"length – 4.85 mwidth – 1.95 mdry weight – 350 kgtransom height – 0.51 mtransom deadrise at – 19°load- 2 peoplefuel capacity – 20 liters
RPM/minute
Speed
ties (km / h)
Noise level
dB (A)
800
0.0 (0.0)
55
800
2.2 (4.1)
56
1000
2.5 (4.7)
58
1500
3.5 (6.5)
63
2000
4.8 (8.8)
69
2500
5.6 (10.3)
68
3000
6.2 (11.5)
72
3500
8.5 (15.8)
75
4000
15.8 (29.3)
72
4500
20.0 (37.0)
72
5000
23.0 (42.6)
72
5500
26.1 (48.3)
72
6000
28.5 (52.7)
72
6400
29.0 (53.7)
73
One of the characteristics of motors series "DF", which we would like to draw readers' attention, is a different gear ratio (or gear) than most other engines, so focus on the other brands when selecting propellers do not recommend. For example, the same "Silver Fox" with a four-stroke, "the Yamaha 50" good feeling and a 14-inch propeller, while a "Suzuki DF50" too "easy" was even 15-inch – the tachometer needle when using the trimmer Care 6500 rev / min, while the stop screw is not lost. Of the proposed "original" line for "Fox |" is more appropriate screw pitch of 16 inches – even with a heavy load (usually on this boat go together). "Torsion" was awarded as the "harpoon" to "Suzuki DF140", and 19-inch screw. But on "Wellcraft" steel "Solas" with "clever" step 20.5 inches was in the nail on the head, although it had to be removed to install the anti-cavitation plate plavnichok compensator, otherwise for it touched the blade. However, the behavior of such boats "amputation" had no effect – loss of directional stability and slip were observed under the influence of reluctance torque.