Yamaha four-stroke or two-stroke engine?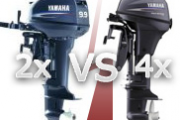 Sometimes a neighbor's or a friend's advice who already have a boat with a motor is decisive in the choice of motor. But if your neighbor is a fisherman and you like just ride on a boat that his advice is likely to be useless.
Two or four strokes? Pros and cons …
Two-stroke
– Cost-effective in terms of price, due to mass production. Design and technology perfected over the years.
– Power ratio and the optimal price.
– A wide range of choices allows you to make precise.
– Most models have electronic components for the prevention and elimination of the motor problems, fine-tune the engine while working on the water.
– Ideal for beginners, family fun on the water, rapid acceleration and deceleration, fishing boats most types that are not designed for trolling for a long time, or swim at a very large distance.
Four
– A more integrated motor, four-stroke, a little expensive for the price. Production of four-stroke motorcycle engines for a long time and many years of experience in operating cheteryrehtaktnyh motors gives vzmozhnost Yamaha four-stroke engines offer you showed great potential.
– The price and power ratio in the past has been far from two-stroke models are now Yamaha offers a model for the approximate weight of a two-stroke. Four are characterized as less noisy.
– The lineup is constantly growing to offer you all the popular power.
– A large number of models among four-run only in a series that provides all the advantages of the use of the latest technologies, particularly in the field of electronics blocks.
– Four models menie noisy both above and under water. For this reason, four-better suited for trolling. Many opt for four-stroke only for that reason alone.
– Due to the fact that the four-stroke do not require oil-gasoline mixture, they do not produce significant emissions. This is another reason to opt for a four-stroke engine.
– Four-stroke fuel consumption much less than in stroke. Savings in fuel varies depending on the power of the motor and the application options. Swim over long distances, trolling, professional use, all the operations which use powerful engines, four-stroke really save you a tangible means.
New HPDI engines.
– HPDI (High Pressure Direct Injection) (high pressure direct injection) two-stroke motors – Yamaha response to input by the American Agency for Environmental Protection restrictions on emissions of engines since 2006. Two-stroke engines HPDI Yamaha exceed these requirements by 30%.
– HPDI is not an adaptation of the fuel system on the outboard motor. This is a completely new development a two-stroke engine, created by engineers Yamaha spetsilno for small boats.
– Motors HPDI burn all the fuel in tsilinrah, resulting in significantly increased control over the motor and umenshetsya emission of harmful substances.
– HPDI motors perfect balance of low emissions, low noise engine, fuel economy with monevrennostyu and excellent design two-stroke engine. They are the best qualities of the perfect balance of two- and four-stroke engines.
– So it is a new product on the market, Yamaha HPDI engines engineers tested in extreme conditions for several years. These tests have issued many years of hard use motors, Yamaha noted that this new product will show the same good results as in predveduschie years have shown the Yamaha motors.