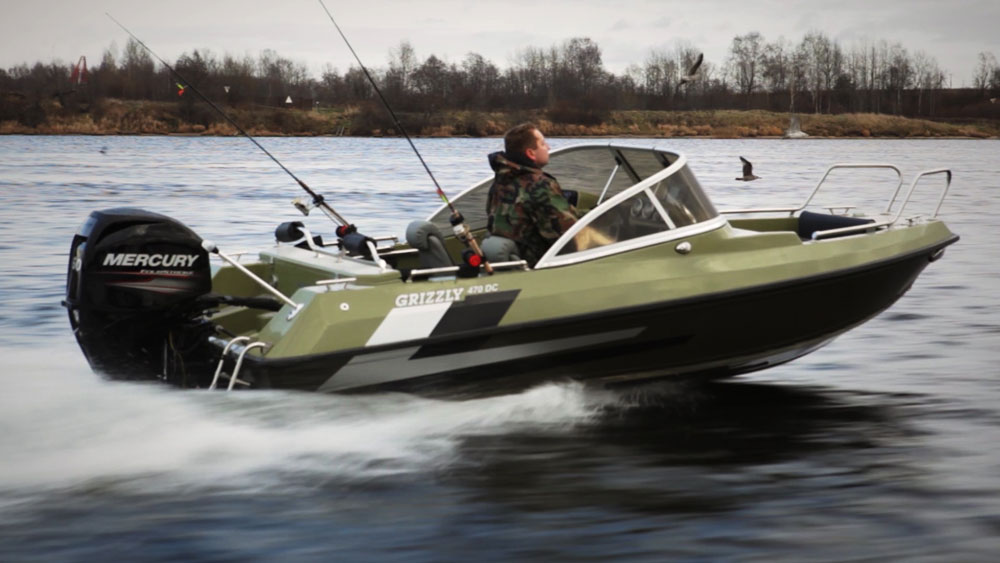 Boat GRIZZLY 470 DC new
630 000 руб
470DC new is a new classic. Classic mobile boat is ideal for large rivers, reservoirs and medium lakes. It has all the advantages of rigid boats. The boat is designed for fishermen and hunters. It is also for those occasions when you need to get in the nooks quickly and quietly. We have taken into account the wishes in hull colors. Practical and convenient boat is distinguished also by competitive price. At the same time it is not an austere, angular boat "for boots", but quite modern and stylish boat that combines the reliability, convenience and driving comfort.
The main parameters
Technical specifications
| | |
| --- | --- |
| Length | 4.70 m |
| The maximum width of | 1.85 m |
| Freeboard | 0.80 m |
| Deadrise | 15º |
| Transom height | 510 мм |
| Weight | 330 кг |
| Hull | welded |
| Bottom thickness of | 4 mm |
| Board thickness (bead forming) | 3 mm |
| Recommended engine power | 40-60 hp |
| Hull material | aluminum-magnesium alloy AlMG-5M |
| Number of passengers | 5 persons |
Additional transom for a small motor.
Transom platform (crinoline).
The stationary welded fuel tank ~ 60 l.
Innovative navigation,
targa (stainless steel) with spinning-holders,
suspension or shipping tent,
RC headlight for targa,
echo-sounder and audio-visual equipment,
installation of the projectors,
holders for spinning
equipment for trolling,
completing from the Maritim catalog,
acquisition of new or little used motors.
sounders and chartplotters: installation, replacement, sale and consultation.
View all
Plastic color: white.
Steering with a steering cable with motor up to 200 hp
Side rails.
Windshield.
Bow box under the anchor.
Bow and stern lockers.
Mooring cleats (4 pcs.).
Anti-skid on the bow and stern.
Soft cushion on the seat.
Control Panel.
Running lights.
Electropomp.
Switch with the key.
The box for the battery.
View all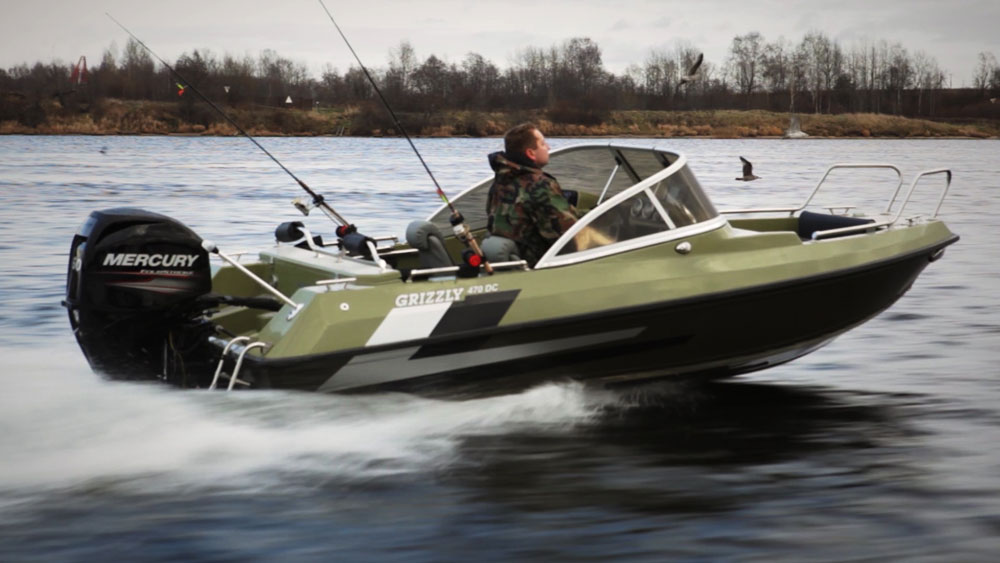 Внутренняя панорама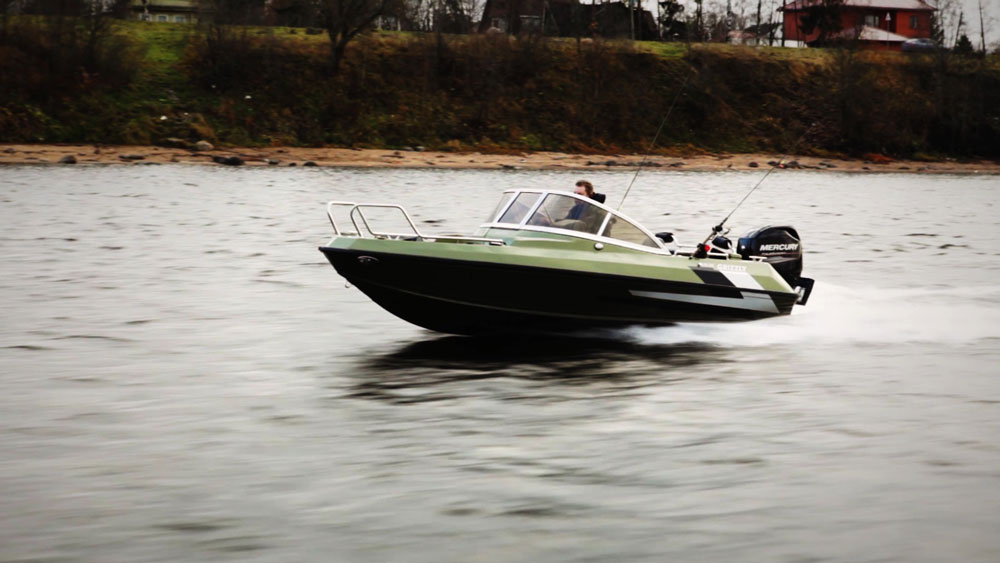 Внешняя панорама
Additional description
It's a true classic for fishermen and hunters. True fishing and hunting means a solitude with nature, the remoteness from civilization. There are a lot of such places in our country, but the places equipped for launching large boats are much smaller. In addition sometimes you need to go unnoticed in shallow place where a large boat will not have enough space to maneuver.
НThe boats at the size 450 -470 are most in demand in many regions of our country. 20 cm is a significant growth for a boa, and we have decided to choose a reasonable compromise, stopping the choice in favor of 470 cm length of the body. It has the concept of classic boats. Two arms are extending along the sides and in the center. Two cockpits: the bow and stern. The boat is comfortable and enjoys wide popularity among hunters. Especially among those who trades seabirds. But also for fishermen of different levels it fits perfectly.
It's a dynamic boat, a quick exit in the planing mode, steady on course, predictable without extra rolls, easy to operate. Maneuverability required for transitions in difficult conditions is at the level of the jet boats.
In production we use only the best and proven materials. We use the most advanced technology of aluminum welding of seams. We provide the highest degree of reliability, at the same time, responding to aesthetic standards. Widely used the most modern equipment and the entire production is controlled and run by experienced technologists. Only high-quality materials from different countries are used in the decoration of the cabin and cockpit and manual labor ensures the reliability of the assembly.
The boat can be used as a multifunctional and in different conditions. Or it can have a clear purpose. For example, trolling in small lakes. Hard hull provides advantages over any inflatable boat. Enough space, the ability to install equipment, holders for fishing rods, downriggers and so on.
We used the principle or anything superfluous, but all you need for comfort and convenience. The result is a great stylish boat with great seaworthy. It's a practical and reliable boat for harsh environments but also for those who are not accustomed to spending time in a «tin». This boat is appropriate for wild lakes, for river reaches and large waters, for coastal fishing. By the way we paid a special attention to security. The hull is completely unsinkable and complies with all international safety requirements.
And also we recommend boat trailers for independent boat transportation.
Individual configuration
Contact Grizzly specialists to select a complete set according to your wishes and needs