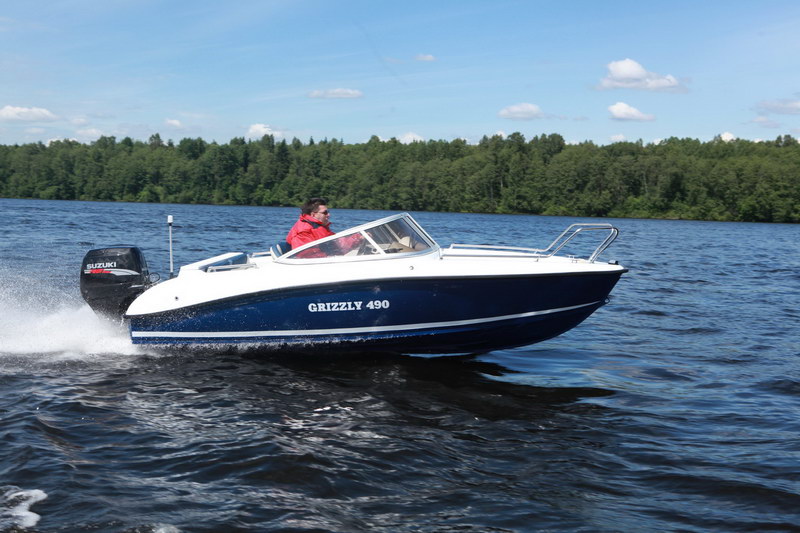 Boat GRIZZLY 490 DC
790 000 руб
Boat Grizzly 490 DC is designed for those who are not ready to throw tens of thousands for heavy-duty engine consumption, but who are tired of "all the charm" of inflatable boats. For those who want to move quickly and comfortably through the pond and not to experience any problems during boat descent. It is rather a pleasure boat, elegant, fast, dynamic. It keeps course and is agile, practical and convenient. It is ideal for those who spend summer days on the large lakes, preferring to alternate fishing and boat trips. It can be upgraded easily into a comfortable boat for fishing. It is easy to be carried on single-axle trailer.
The main parameters
Technical specifications
| | |
| --- | --- |
| Length | 4.85 m |
| The maximum width of | 2.05 m |
| Freeboard | 0.80 m |
| Deadrise | 17º |
| Transom height | 510 mm |
| Weight | 370 kg |
| Hull | welded |
| Bottom thickness of | 4 mm |
| Board thickness (bead forming) | 3 mm |
| Recommended engine power | 50-80 hp |
| Hull material | aluminum-magnesium alloy AlMG-5M |
| Number of passengers | 5 persons |
Holders for spinning.
Trolling equipment.
Life jackets.
Accessories from Maritim catalog.
Acquisition of new or little used motors.
Sounders and chartplotters: installation, replacement, sale and consultation.
View all
Plastic color: white.
Steering with a steering cable with motor up to 80 hp. The stationary fuel tank of 70 liters.
Side rails.
Windshield.
Bow box for the anchor.
Bow and stern lockers.
Mooring cleats (4 pcs.).
Anti-skid on the bow and stern.
Soft cushion on the seat.
Control Panel
Running lights.
Electropomp.
Switch with the key.
The box for the battery.
Set additional options, tuning of the boats and motorboats.
View all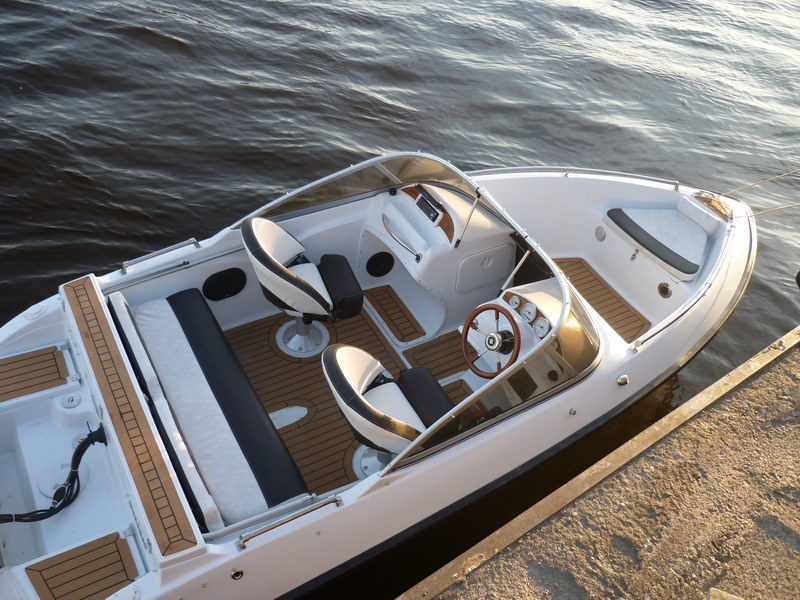 Interior view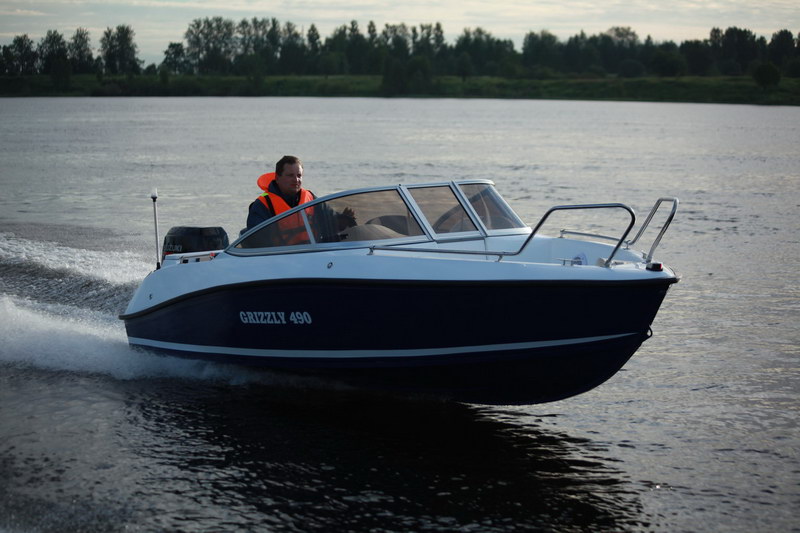 Exterior view
Additional description
Once our country was one of the leading manufacturers of mobile boats up to 5 meters. There is no need to say about the demand for this class. Many of them are today in the ranks, although they have outdated, first of all moral. A period of aging of aluminum is much greater.
Over the years, many manufacturers have gone through the creation of a «universal» boat. We understand that this is not possible, each condition has its boats. As it is impossible to do it in the car world. Our models Remained have filled successfully this unoccupied niche. One of these boats is multifunctional boat 490 DC. The boat is designed for mobile use. It is convenient for medium lakes, rivers, with the ability to reach a large water area. In the creation of the boat, we pay special attention to seaworthiness, taking into account the conditions of boats use. At the same time the boat looks stylish and doesn't inferior to the pleasure boats of higher class. The boat can be used for day walks, family walks. The boat tows easy a skier, «donut tube» or «banana».
It's a perfect solution for those who for one reason or another do not want to spend big money on a boat. The boat is easy to be pulled on the water by the quads in a place where there are no equipped descent. But in the marina a boat looks great. Sporting features are veiled in appearance and are felt during a boat control. Dynamic boat will impress even experienced motorboat amateurs. Easy planing, maneuverability is in all operating modes. The boat can be different, depending on the owner's mood, can be quiet cruiser, quiet and inconspicuous fishing boat, maybe rapid and fast sports bot.
In production we use only the best and proven materials. We use the most advanced technology of aluminum welding of seams. We provide the highest degree of reliability, at the same time, responding to aesthetic standards. Widely used the most modern equipment and the entire production is controlled and run by experienced technologists. Only high-quality materials from different countries are used in the decoration of the cabin and cockpit and manual labor ensures the reliability of the assembly.
The classic layout of the hull has two seats on the sides and a sofa in the back. The bow is used efficient for second cockpit, access to which is carried out through the passage in the central console. This concept also facilitates access to the shore mooring.
В стандартной комплектации есть все необходимое для комфортной эксплуатации, а дополнительные опции позволяют придать лодке индивидуальность. Создать свой уникальный образ и характер. В зависимости от условий эксплуатации комплектация лодки может быть нацелен, как на водные прогулки, так и рыбалку.
However in the performance of the fishing boat it does not become an ascetic, maintaining its image of a modern and stylish boats for fishing and rest.
And also we recommend boat trailers for independent boat transportation.
Individual configuration
Contact Grizzly specialists to select a complete set according to your wishes and needs