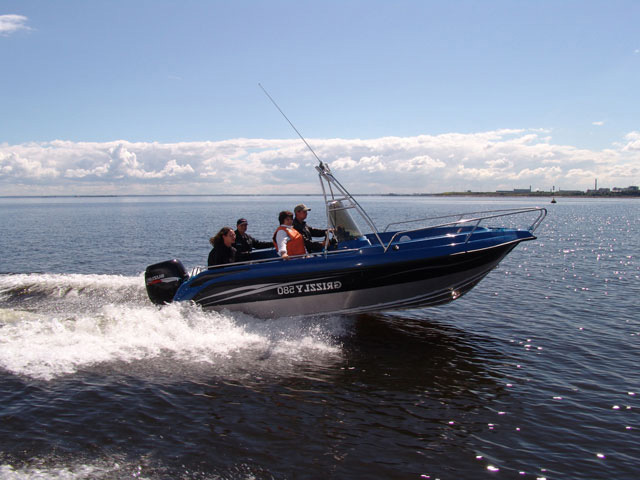 Boat GRIZZLY 580 Fisherman
Boat GRIZZLY 580 Fisherman
Model Grizzly 580 Fisherman (I would call it ProAnglers, from the perspective of the destination correctly, because a fishermen is a fisherman-farmer)
The boat name speaks for itself. It is ascetic, reliable and most importantly a comfortable boat for those who has succumbed to the ancient hunter's instincts and has a will to spend on the water all his free time. The boats for fishing have their demands. Instead of glitz and pretentiousness there is navigability and usability in the first place. And this is exactly the same case. Combining reliability and seaworthiness expressed as a multipurpose boat is applicable for various types of fishing. On the boat it is easy to install additional hardware, creating an image of this PROAnglers boats.
The main parameters
Technical specifications
| | |
| --- | --- |
| Length | 5.80 m |
| The maximum width of | 2.25 m |
| Freeboard | 0.90 m |
| Deadrise | 19º |
| Transom height | 510 mm |
| Mass | 540 kg |
| Hull | welded |
| Bottom thickness of | 4 mm |
| Board thickness (bead forming) | 3 mm |
| Recommended engine power | 80-150 hp |
| Hull material | aluminum-magnesium alloy AlMG-5M |
| Number of passengers | 8 people |
electric windlass,
targa with spinning-holder (stainless steel),
audio-video equipment,
installing of remote-controlled searchlights,
tents,
trolling equipment,
life jackets,
transom platform (crinoline),
fore and aft gangway,
lantern lighting cockpit, chassis and shipping awning,
fine filter,
the hydraulic control unit,
tachometer,
pump and auxiliary lights on targa,
additional lights in the cockpit,
sounders and chartplotters: installation, replacement, sale, consultation … attaching of glasses for spinning-holders.
Accessories on Maritim catalogue.
Acquisition of new or little used in motors.
and also we recommend boat trailers for self-transportation of the boats …
View all
Plastic color: white.
Steering with a steering cable with motor up to 200 hp. The stationary fuel tank of 140 liters.
Side rails.
Windshield.
Bow box under the anchor.
Bow and stern lockers.
Mooring cleats (4 pcs.).
Anti-skid on the bow and stern.
Soft cushion on the seat.
Control panel.
Running lights.
Electropomp.
Switch with key.
The box for the battery.
View all
Additional description
Fishing is the main hobby of the men and to have a good, reliable boat for fishing is the dream and desire of every self-respecting man. Someone just begins to master large bodies of water, knowing that advertised pluses of pneumatics class are largely contrived. Others have figured out what was going on and know what they want. During developing the concept of models we have used both our own experience and other opinions regarding comfort and convenience, including fishing, so many years of experience of Scandinavian fishermen. Look at any marina in Finland, absolutely all boats are with rigid hull and 80% of the fishing boats are aluminum. That says a lot.
Our model has absorbed all the best that can be fit in a boat sufficiently compact for transportation, but quite spacious for a fishing package. The boat is perfect for fishing and for trolling which has become incredibly popular in our region. If the other ways of catching all pretty simple, by trolling boat special requirements. Easy planing and good speed with a large load, stability on a wave, maneuverability and ease of management – all this is important for moving in stormy weather over large water areas, which is quite often. At the same time, the spacious cockpit, the same stability, but static, ease of placement and installation of equipment for fishing. Finally, course stability. All this is fully there in 580, created especially for the discerning anglers who do not need the gloss and shine of plastic beauty decoration of expensive materials. But it's for those for whom the question of reliability is paramount.
In production we use only the best and proven materials. We use the most advanced technology of aluminum welding of seams. We provide the highest degree of reliability, at the same time, responding to aesthetic standards. Widely used the most modern equipment and the entire production is controlled and run by experienced technologists. Only high-quality materials from different countries are used in the decoration of the cabin and cockpit and manual labor ensures the reliability of the assembly.
Of course it is superior to all other models of the same size in many respects. The hull is designed to smooth out, to extinguish the treacherous waves of large lakes. Small lakes and rivers are an easy obstacle for such boats. There is enough place to accommodate all the equipment for trolling, targa, downriggers and other equipment. At the same time there is room for three fishermen on board although there may be more.
It should be noted that it is not enough for the modern fishermen to present a reliable boat with sloppy welds and finish in the style of the Soviet «UAZ». Comfort and aesthetics are not in last place. We have considered it in the design, opting for a more complex, but also more comfortable combination of aluminum and plastic. Result is in an excellent boat, that is perfectly suitable for stationary and mobile parking movements.
And also we recommend boat trailers for independent boat transportation.
Individual configuration
Contact Grizzly specialists to select a complete set according to your wishes and needs