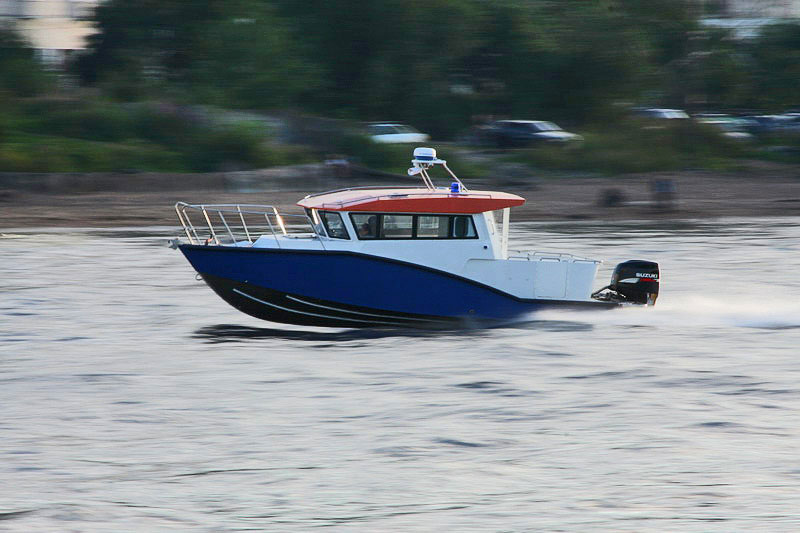 Boat Kasatka 2M
3 605 000 руб
This boat length of 8.46 m is designed for those who prefer to fish or to voyage in a big company. At the same time who prefers comfort and reliability but not the old phrase "in the crowded but not mad". The spacious cabin offers opportunities for fishing throughout the open-water season. It's a perfect solution for those who seek to be alone with nature but prefer the comfort in difficult weather conditions. It is a reliable boat in all conditions and tough fishing.
The main parameters
Technical specifications
Parameter
Kasatka m2
Length
8.46 m
The maximum width of
2.5 m
Amidships height
-m
Deadrise
19º
Transom height
– mm
Mass
2100 kg
Hull
welded
Bottom thickness
5 mm
Board thickness (bead forming)
4 mm
Recommended motor power of
200-250 hp
Hull material
aluminum-magnesium alloy AlMG-5M
Number of passengers
6-10 people
Choice of hull color
Outboard four-stroke engine
OOO «Severnoe more» – the official dealer of Yamaha, Suzuki, Mercury
Shore power 220 W upon request (for charging)
Case for transport and winter storage
One-burner alcohol stove
Two-burner alcohol stove Lamp-seeker with remote control
Kit of windshield wipers upon request (2 pcs.)
Kit of windshield wipers (2 pcs.)
Kit of windshield wipers (3 pcs.)
AirTop 2000 Webasto heater
Webasto 3900 ST B heater (petrol)
Evacuation hatch in the bow cabin 470 x 470 mm
Ventilation hatch in the cockpit 340 x 210 mm
Bracket for additional motor (for the outboard)
3-stage telescopic gangway bow
3-stage telescopic gangway aft
Bleed bathroom (complete set)
Pantry with washing water supply system, water tank 110 liters, sink and mixer
Hot water system for the privy with boiler (as agreed with the customer)
The cockpit lighting upon request (set of the waterproof deck lamps)
Compass Suunto
Anchoring device with manual winch
Anchoring device with electric winch
Bow anchor, 15 kg
Stern anchor, 8 kg
VHF station of maritime and / or fluvial range (as agreed with the customer can be supplied both fixed and portable VHF radiostation)
Audio / video / sound system with internal and external antenna and speakers upon request (as agreed with the customer)
GPS-navigators and echo sounders from leading manufacturers: Contact Audio preparation upon request
Life buoy «Rescuer» upon request
Waistcoat (sea / river, adult / child)
Set of the additional options, tuning of the boats and the motorboats
View all
Navigational lights
Circular (anchor) fire on a removable mast
Automatic pump (2 pcs.)
Emergency pump of increased productivity
Beep (Foghorn)
Switch batteries
Disconnect switch
Socket with round flange (cigarette lighter)
Hydraulic steering system
Outboard engine
Fuel tank capacity of 240 liters
Ventilation fungus in the deckhouse and in the privy
Mooring cleats (4 pcs.), 2 sealed storage box for batteries (55-60 Ah and 100-120 Ah)
Self-draining cockpit
Complete of bow and stern railings made of stainless tube with diameter of 25 mm
Corrosion-resistant zinc anodes
The mast on the roof is with the possibility of establishing a radar antenna, search lights, loudspeakers. Transforming table in the deckhouse. Board painting, superstructure and roof (design on request)
View all
Additional description
Boats Grizzly Pro are designed for harsh environments, and most advanced technology is used in the production of this range. The boats are extremely reliable and durable that is ensured by taken as the basis a special alloy of marine aluminum AlMG 5-M with thickness up to 6mm. High-tech equipment is used during welding of the hull. Big hull thickness open new horizons for these boats and for this reason, Pro
series operates in various parts of the country, including the seaside, providing security and border control on the water. Our company is constantly improving its material and technical base, introducing new innovations of modern world-class boats production.
With no doubt it is one of the flagships of our shipyard – multi-functional boat «Araganaft» (Kasatka2M). The broad geography of use includes a variety of conditions from the sea coast to the wild Siberian rivers. These boats can be found from Kaliningrad to Vladivostok. The field of application is also broad. These boats are in service in various departments of our country, including the Federal Security Service, Interior Ministry, Ministry of Emergency Situations. The boats are used for patrolling, search and rescue operations, rapid response tasks. All this indicates a high degree of reliability and wide range of boat application.
The concept and the size of the boat let to use it both for water rest, fishing, hunting. The powerful hull is reliable even in the harshest conditions. All these requirements are met by Kasatka 2M.
The boat's size allows completing it for autonomous travel and operation in the harshest weather conditions. It increases comfortable navigation to the entire period of open water. This is particularly appreciated by fishing amateurs. The boat, of course, does not apply to a class of mobile, but can easily be transported on a trailer.
The boat can meet the requirements of a wide variety of tasks. An impressive amount of lockers can carry a lot of things, placing them so that they do not interfere the passengers.
Despite its size the control of the boat is easy. It goes quickly into planing mode, providing a steady course even when fully loaded. Maneuverability allows you to operate even in the waters of relatively large rivers. It's the fully multi-purpose boat. We have created for the owner an excellent selection of optional equipment, leaving only the basic and the necessary options. Depending on the tasks of the boat, it can be equipped for sea fishing or travel.
We pay great attention to maintenance quality, hull hydrodynamics, aesthetics and safety. The buoyancy of the hull is provided by several stages, together providing 100% unsinkable hull.
And also we recommend boat trailer sfor independent boat transportation.
Individual configuration
Contact Grizzly specialists to select a complete set according to your wishes and needs