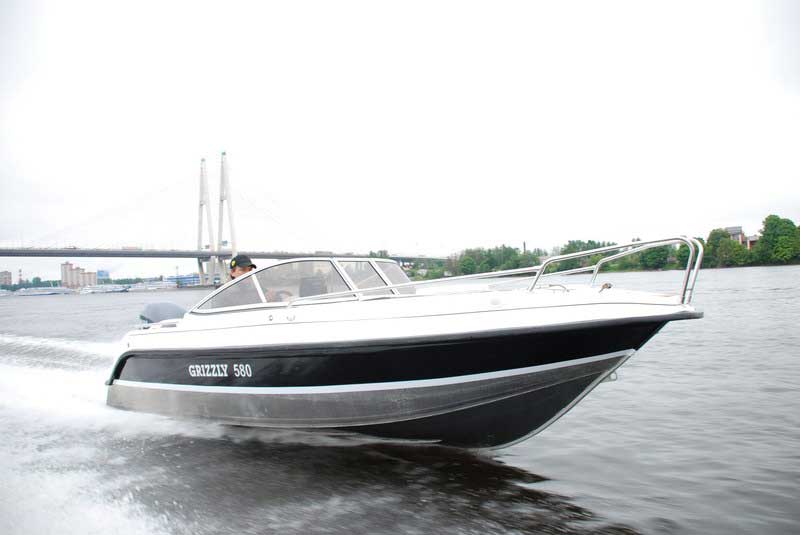 GRIZZLY 580 DC
1 140 000 руб
The stylish 580 has the features of a dynamic, sporty boat. Ready to hit the ground running at any second. The world-famous hull layout includes virtually two cockpits, one aft and one bow. This makes the boat suitable for both active holidays on the water, and for sport fishing. Characteristic of Grizzly also embodied in this model: the stylish and striking materials in the interior, which reinforce the image of an expensive and high quality boat.

The main parameters
Technical specifications
| | |
| --- | --- |
| Hull length | 5.80 м. |
| Maximum width | 2.25 м. |
| Freeboard | 0.90 м. |
| Deadrise | 19º |
| Transom height | 510 mm. |
| Weight | 580 kg. |
| Hull | welded |
| Bottom thickness | 4 mm. |
| Board thickness (pressed) | 3 mm. |
| Engine power (installing two motors each) | 90-150 hp |
| Body material | aluminum-magnesium alloy AMG-5M |
| Number of passengers | 6 people |
– Hull made of marine grade aluminium (AL Mg5M)
– Bottom shell plate – 4 mm. (AL Mg5M)
– Flange – 3 mm. (AL Mg5M)
– Keel – 4 mm. (AL Mg5M)
– Transom height – 510 mm.
– Transversive- longitudinal set – 4 mm. (AL Mg5M)  (AL Mg5M)
– Hull of grey colour (aluminium) wrapped with ORACAL film (black)
– Deck made of impact resistant plastic with gelcoat Premium class (white colour)
– Non-slip coating on bow, stern, side deck (plastic)
– Permanent fender
– Steering control with helm rope for engines up to 200 hp.
– Stationary fuel tank – 140 litres.
– Bow stainless steel railings –  Ø 25 mm.
– Flange stainless steel  railings –  Ø 25 mm.
– Stainless steel handle on passenger console – Ø 25 mm.
– Windscreen opening in the centre for access to the forward cockpit
– Bow anchor box.
– Bow lockers – 3 pieces. (cockpit)
– Aft lockers – 2 pcs. (cockpit)
– Aft lockers – 2 pcs. (recess)
– Fishing rod storage locker (bow cockpit deck)
– Stainless steel mooring cleats – 4 pcs.
– Soft padding on aft lockers with backrests (marine vinyl).
– Captain's and navigator's transforms chair
– Marine electrical equipment control panel
– Helm with GRIZZLY logo
– Fuel level
– Navigation lights
– Headlight
– Electric pump.
– Ignition key
– Battery drawer.
View all
Choice of enclosure colour.
Electric anchor winch.
Targa (stainless steel).
Downriggers, glider reels, gliders, spinning holders, aerated fish cages
Audio-visual equipment.
Installation of remote controlled spotlights.
Sail and transportation awnings
Holders for spinning
Navigation equipment.
Trolling equipment.
Life vests.
Accessories from the Maritim catalogue.
Options are available with new or second-used engines.
Echo sounders and chartplotters: installation, replacement, sale, assistance.
View all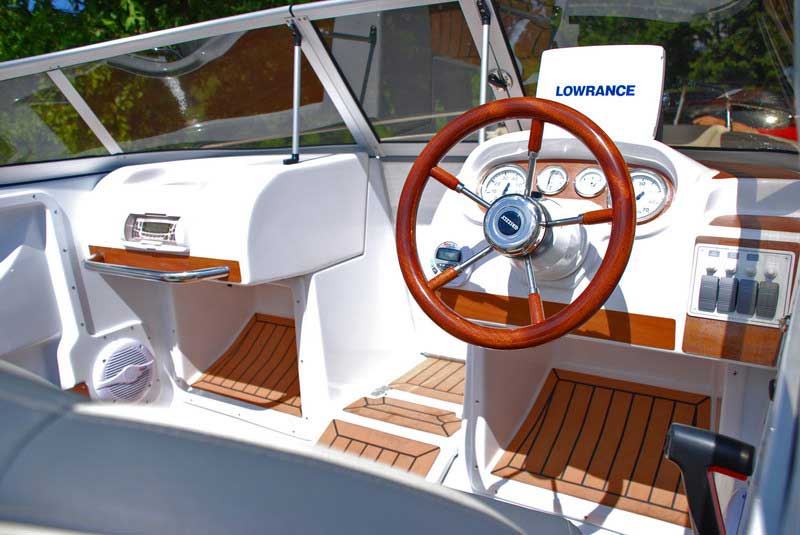 Внутренняя панорама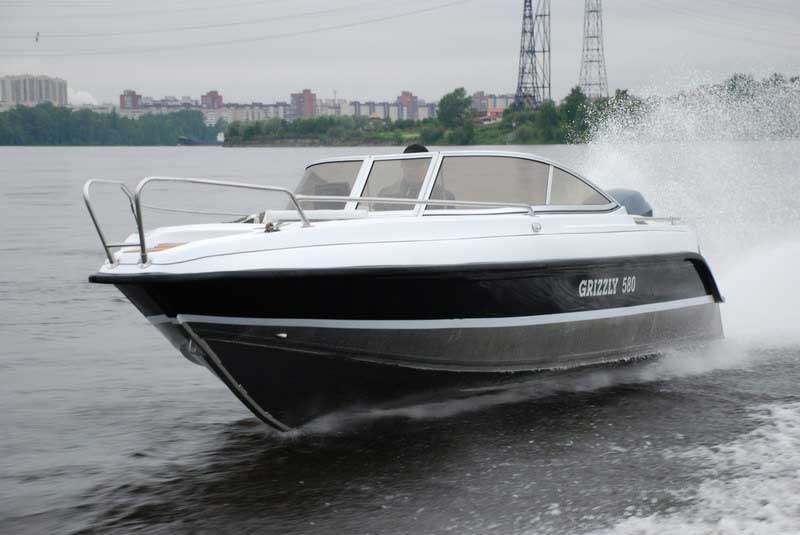 Внешняя панорама
Additional description
A multifunctional boat primarily designed for dynamic water travel. It will appeal to those who are used to a fast drive, for whom the limits are a kind of challenge. At the same time, a reliable boat which will ensure comfort and safety even in difficult weather conditions. Equal attention was paid to the boat's hydrodynamics, weight balance and layout; without ignoring the aesthetics. The DC version is made of quality materials, the interior design follows all international standards and requirements and the ability to combine materials in the cockpit provides the opportunity to personalise the boat.
The boat is divided into two cockpits. The two consoles are spread out on the sides and in the middle part there is a convenient wide passage opening which can be securely closed by the windscreen flap when the boat is moving. The aft cockpit is a traditional seating area, both when cruising and when stationary. The forward cockpit can also serve as a company recreation area, aided by the centre folding table. The hull details protect the passengers from water spray, a problem that concerns many boats in this class.
Only the best and most proven materials were used in the production. The latest welding technology for aluminium seams is used. Ensuring the highest degree of reliability, while at the same time meeting aesthetic standards. State-of-the-art equipment is used extensively, with all production managed and overseen by experienced technologists. Only quality materials from different countries are used for the decoration of the cabin and the cockpit and a reliable handcrafted workmanship is assured.
This makes the boat perfectly suited to the demands of discerning customers who are looking for a dynamic and multifunctional boat, especially for relaxation. Of course, fishing is commonplace in boats of this class. Sufficient space and stability make it comfortable not only to relax but also to fish.
Sailing qualities are typical for all boats in the 580 size range. Stability on course, no wobbling, splashing, pitching, or dangerous manoeuvres at high speeds. The boat easily copes with sharp wind waves, softening shocks waves, which makes being on board even more comfortable.
A good weekend boat, which will look appropriate both in the city yacht club, and in the car park at the country house. The light weight and powerful engine makes for an easy launch and a more economical boat operation. Finally, you can not forget the successful combination of an aluminium hull tandem which gives the boat rigidity and reliability, allowing it to shore up in all conditions, and a plastic deck which enhances the "urban-type" effect of the boat.
In short, for both good recreation and comfortable fishing, this boat is great.
We also recommend boat trailers for independent boat transport
Individual configuration
Contact Grizzly specialists to select a complete set according to your wishes and needs