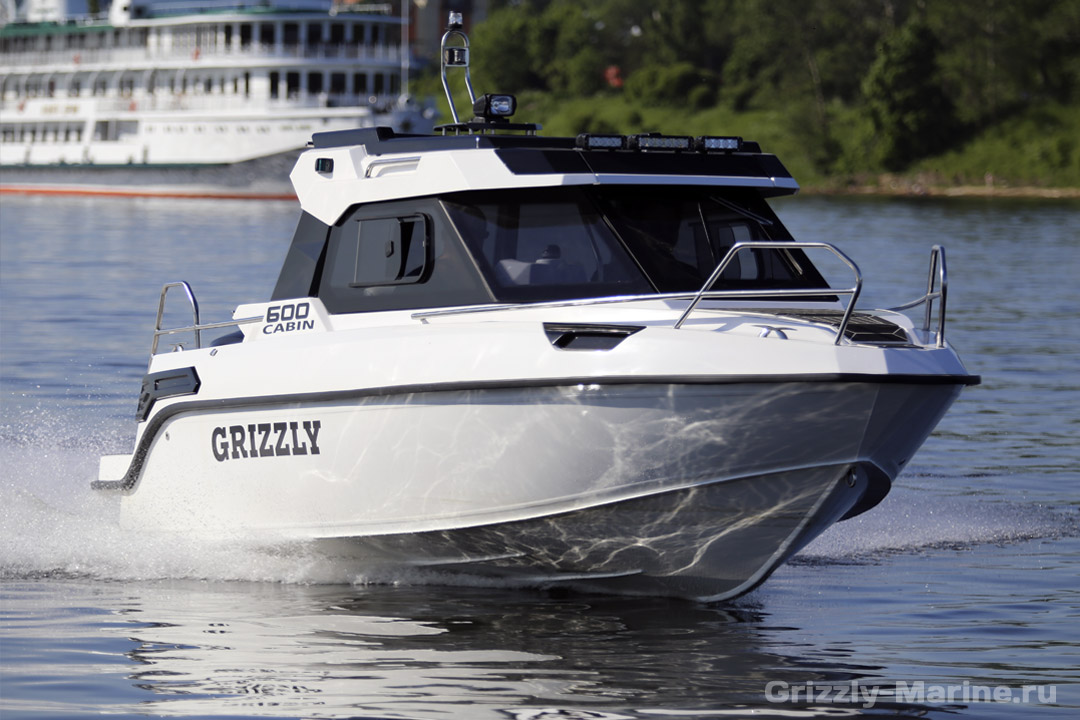 GRIZZLY 600 CABIN
1 550 000 руб
Grizzly has once again surprised everyone. The GRIZZLY 580 HT has replaced the GRIZZLY 600 that is so popular with watercraft enthusiasts and has become one of the most popular boats on the market.
The new 6-metre-long boat is available in two versions, HT and CABIN. In this size boat is the most popular boat, but it is not only the length of the boat that guarantees success, so Grizzly created a boat that meets all comfort and safety requirements on the basis of the GRIZZLY 580 HT hull.
The main parameters
Technical specifications
| | |
| --- | --- |
| Hull length | 6.00 м. |
| Maximum width | 2.25 м. |
| Freeboard | 0.90 м. |
| Deadrise | 19º |
| Transom height | 510 mm. |
| Weight | 740 kg. |
| Hull | welded |
| Bottom thickness | 4 mm. |
| Board thickness (pressed) | 8 mm. |
| Thickness keel, transom | 3 mm. |
| Engine power (installing two motors each) | 115-150 hp |
| Max speed | 84 km/h |
| Number of passengers | 6 people |
| Sleeping places | 2 pcs. |
– Hull made of marine grade aluminium (AL Mg5M)
– Bottom shell plate – 5 mm. (AL Mg5M)
– Flange – 4 mm. (AL Mg5M)
– Keel – 8 mm. (AL Mg5M)
– Transom height – 510 mm.
– Transversive- longitudinal set – 4 mm. (AL Mg5M)
– Hull of grey colour
– Plastic of grey colour
– Deck made of impact resistant plastic with gelcoat Premium class (white colour)
– Non-slip coating on bow, stern, side deck (plastic)
– Glazing of the cabin (6 mm tempered glass)
– Transom deck (crinoline) – 2 pcs.
– Permanent fender
– Steering control with helm rope for engines up to 200 hp.
– Helm with GRIZZLY logo
– Stationary fuel tank – 140 litres.
– Bow railings – Ø 32 mm. (black powder coating)
– Flange railings – Ø 32 mm. (black powder coating)
– Roof railings – Ø 25 mm. (black powder coating)
– Covering the cabin ceiling (marine carpeting)
– The glove box on the passenger console
– Panoramic sliding sunroof (tempered glass )
– Front door access to the bow deck (opening upwards).
– Bow anchor box
– Cabin with berths – 2 persons
– Soft padding (mattresses) berths (marine vinyl). Grey-black colour
– Captain's and navigator's chair transforms into 2 additional berths (vinyl leather). Grey-black colour
– Lockers in the cabin – 3 pcs.
– Lockers in the deckhouse – 2 pcs.
– Aft lockers – 2 pcs. (cockpit).
– Soft padding on aft lockers with backrests (marine vinyl).  Grey-black colour
– Ventilation grilles in the lockers (plastic).
– Mooring cleats reinforced, plastic of black colour- 4 pcs.
– Bow protector.
– Marine electrical equipment control panel
– Fuel level
– Navigation lights with protective covers.
– Headlight
– Electric pump.
– Ignition key
– Battery drawer.
View all
Choice of enclosure colour.
Electric anchor winch.
Audio-visual equipment.
Installation of remote controlled spotlights
Awnings.
Additional transom for the engine.
Gangway on the transom.
Holders for spinning
Navigation equipment.
Trolling equipment.
Galley consisting of gas cooker, sink + gas cylinder 5kg. (propane gas).
Fresh water tank – 60 litres.
Life vests
Accessories from the Maritim catalogue.
Options are available with new or second-used engines.
For use in northern latitudes.
Downriggers
Planer board
Planer
Spinning holders.
Integrated aeration cages for the storage of fish.
View all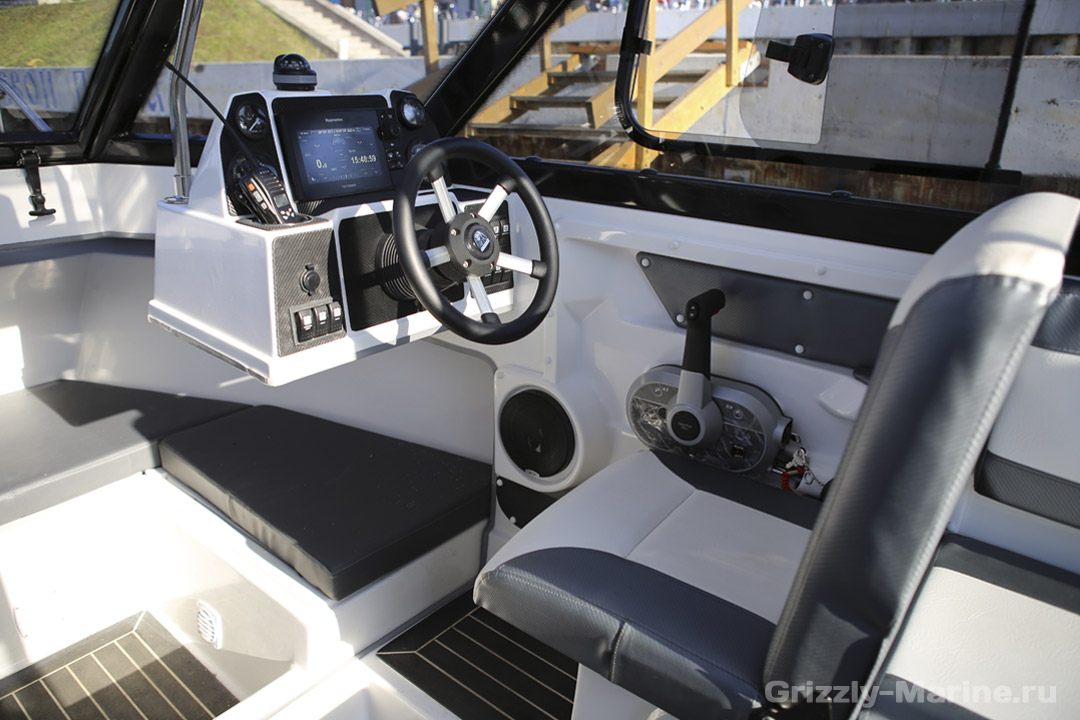 Панорама интерьера
Additional description
The new boat is 6 metres long, available in two versions HT and CABIN. In this size boat is the most popular, but it's not only the boat length that guarantees success, so Grizzly has created a boat based on the GRIZZLY 580 HT hull, which meets all comfort and safety requirements.
What are the differences?
Design has become more modern, the design has become more elegant,but the boat has become visually more aggressive, and in every line you can guess its readiness to fight with the elements. But despite the frown, Grizzly Company was able to add a certain elegance to the boat, in a word, like a real bear, formidable, graceful, beautiful.
Ergonomics and layout were also improved for the 600s, which has been given special attention in the design. The exterior of the boat added elements more typical for boats of a larger class, polycarbonate is replaced by the hardened glass, which allows to install up to 3 window wipers, in the side windows you can install sliding window glasses with clamps, they will help to mooring, provide additional ventilation and will give a status to the boat.
New frame shape, as opposed to its predecessor 580NT, is greatly improved, widening the access door to the foredeck, thereby improving visibility from the deckhouse. In CABIN version, a panoramic bulkhead separates cabin from cockpit, including sliding glass door with lockable mechanism. The sunroof is now made of tempered glass with a locking mechanism. The 600 now has two windows in the cabin arch, which gives extra visibility to the compartment and adds to the harmony of the interior.
Other aft elements have been added, including a multi-functional transom hull with an enclosed roll-top table that reduces engine noise in the boat and also serves as a cockpit table, where you can put your fishing equipment, or simply have a snack. The boat can comfortably accommodate up to 6 passengers, 4 good-sized beds which remain Grizzly's trademark in this size boat, while the chairs have undergone serious modifications, now they are more comfortable and have a reclining mechanism. The total interior volume makes this model the undisputed leader in its class. A man of average height can now stand upright in the wheelhouse, unlike in the previous model. A clever use of interior space allowed to provide maximum comfort in a boat of this size, while maintaining the volume of lockers at 1,200 litres, which is quite enough for a full trip.
The boat's hull.
Hull has changed as well, the bow has been enlarged, this allows to absorb a splash completely and provides better resistance to waves, but seaworthiness as one of the key qualities of Grizzly 600 boat remained unchanged. Agile and controllable, the 600 shows its agile nature in a wide range of conditions. On plane, even when the hull is fully loaded, the GRIZZLY 600 offers excellent directional stability on smooth water, swell, and wind; at low speeds, and at full throttle. The turning from full throttle requires minimal space, and turning circles are negligible, allowing you to fully enjoy the handling of the boat.
For production, like always, only the best and most proven materials have been used. The latest welding technology for aluminium seams is used. Ensuring the highest degree of reliability, while at the same time meeting aesthetic standards. State-of-the-art equipment is used extensively, with all production managed and overseen by experienced engineers and technologists. All cabin and cockpit finishes are made using only the finest quality materials from around the world with a high degree of craftsmanship and reliability. Safety on the water has traditionally been a top priority. The hull is completely unsinkable and meets all accepted standards. This opens up a wide horizon for the boat and, combined with its seaworthiness and the ability to approach any unequipped shore, allows it to be used in large water areas.
Individual configuration
Contact Grizzly specialists to select a complete set according to your wishes and needs