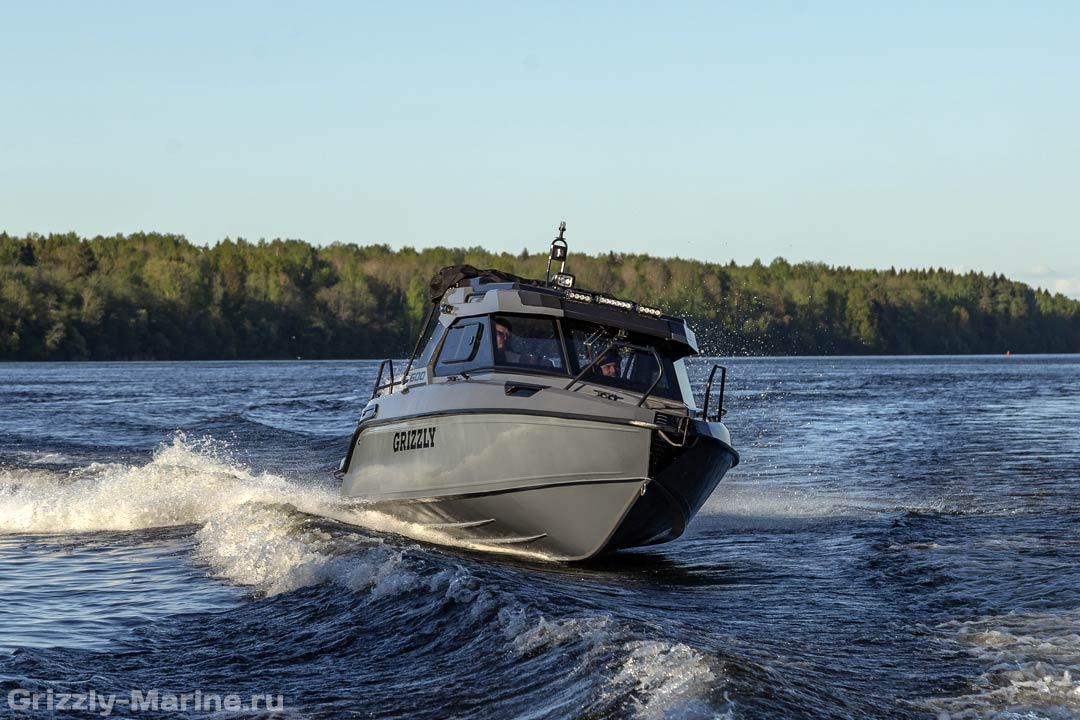 GRIZZLY 600 HT Unimog
1 650 000 руб
Boats around 6 metres in size are particularly popular with fishing and water recreation enthusiasts. The Grizzly range has some interesting products for this class. Particularly the Grizzly 600 HT boat available in Unimog configuration
Design GRIZZLY 600 HT Unimog
The main parameters
Technical specifications
Hull length
6.00 m.
Maximum width
2.25 m.
Freeboard
0.90 m.
Deadrise
19º
Transom height
510 mm.
Weight
780 kg.
Hull
welded
Bottom thickness
4 mm.
Board thickness (pressed)
5 mm.
Thickness keel, transom
8 mm.
Engine power (installing two motors each)
200 hp
Max Speed
94

km / h

Number of passengers
6 people
Sleeping places
4 pcs.
– Hull made of marine grade aluminium (AL Mg5M)
– Bottom shell plate – 5 mm. (AL Mg5M)
– Flange – 4 mm. (AL Mg5M)
– Keel – 8 mm. (AL Mg5M)
– Transom height – 510 mm.
– Transversive- longitudinal set – 4 mm. (AL Mg5M)
– Hull of grey colour
– Plastic of grey colour
– Deck made of impact resistant plastic with gelcoat Premium class (colour white)
– Non-slip coating on bow, stern, side deck (plastic)
– Glazing of the cabin (6 mm tempered glass)
– Transom deck (crinoline) – 2 pcs.
– Permanent fender
– Steering control with helm rope for engines up to 200 hp.
– Helm with GRIZZLY logo
– Stationary fuel tank – 140 litres.
– Bow railings – Ø 32 mm. (black powder coating)
– Flange railings – Ø 32 mm. (black powder coating)
– Roof railings – Ø 25 mm. (black powder coating)
– Covering the cabin ceiling (marine carpeting)
– The glove box on the passenger console
– Panoramic sliding sunroof ( tempered glass )
– Front door access to the bow deck (opening upwards).
– Bow anchor box
– Cabin with berths – 2 persons
– Soft padding (mattresses) berths (marine vinyl). Grey-black colour
– Captain's and navigator's chairs transforms into 2 additional berths (vinyl leather). Grey-black colour
– Lockers in the cabin – 3 pcs.
– Lockers in the deckhouse – 2 pcs.
– Aft lockers – 2 pcs. (cockpit).
– Soft padding on aft lockers with backrests (marine vinyl). Grey-black colour
– Ventilation grilles in the lockers (plastic).
– Mooring cleats reinforced, plastic of black colour- 4 pcs.
– Bow protector.
– Marine electrical equipment control panel
– Fuel level
– Navigation lights with protective covers.
– Headlight
– Electric pump.
– Ignition key
– Battery drawer.
View all
Choice of enclosure colour
Electric anchor winch
Audio-visual equipment
Installation of remote controlled spotlights
Awnings
Additional transom for the engine
Gangway on the transom.
Holders for spinning
Navigation equipment
Trolling equipment
Galley consisting of gas cooker, sink + gas cylinder 5kg. (propane gas).
Fresh water tank – 60 litres
Life vests
Accessories from the Maritim catalogue
Options are available with new or second-used engines
For use in northern latitudes
Downriggers
Planer board
Planer
Spinning holders
Integrated aeration cages for the storage of fish
Echo sounders and chartplotters: installation, replacement, sale, assistance
View all
Additional description
The Unimog range of dual-component boats by Grizzly is new, but it is already popular. Actually it is more universal version of the classic model. Reinforced hull and a number of unique technical solutions, interesting for those who need extra durability and reliability. All of this makes it possible to operate the boat under heavy loads, in harsher conditions and at higher speeds.
Construction specifics and difference from classic model 600 is that boat hull was lengthened by 10 centimeters that gives an opportunity to use more powerful engine. Externally, a distinctive feature of the Unimog version is a dark grey hull colour with black matte elements. This makes the boat stand out in the marina but makes it less noticeable in the water. All elements contribute to the overall style of the boat. Both the hull décor and the functional parts. For example, an anchor and a 3mm thick aluminium protective plate at the front of the hull. This prevents potential damage to the hull when hoisting the anchor. Furthermore, it additionally strengthens the bow of the boat. Coloured in matt black.
The Grizzly 600 HT Unimog is rapidly gaining popularity. Thanks to the special hull layout, technical and running characteristics, several unique solutions this model is perfectly suitable for our climatic conditions, allows to transport the boat by any vehicle, has good habitability and is applicable for the most different conditions and tasks.
Individual configuration
Contact Grizzly specialists to select a complete set according to your wishes and needs