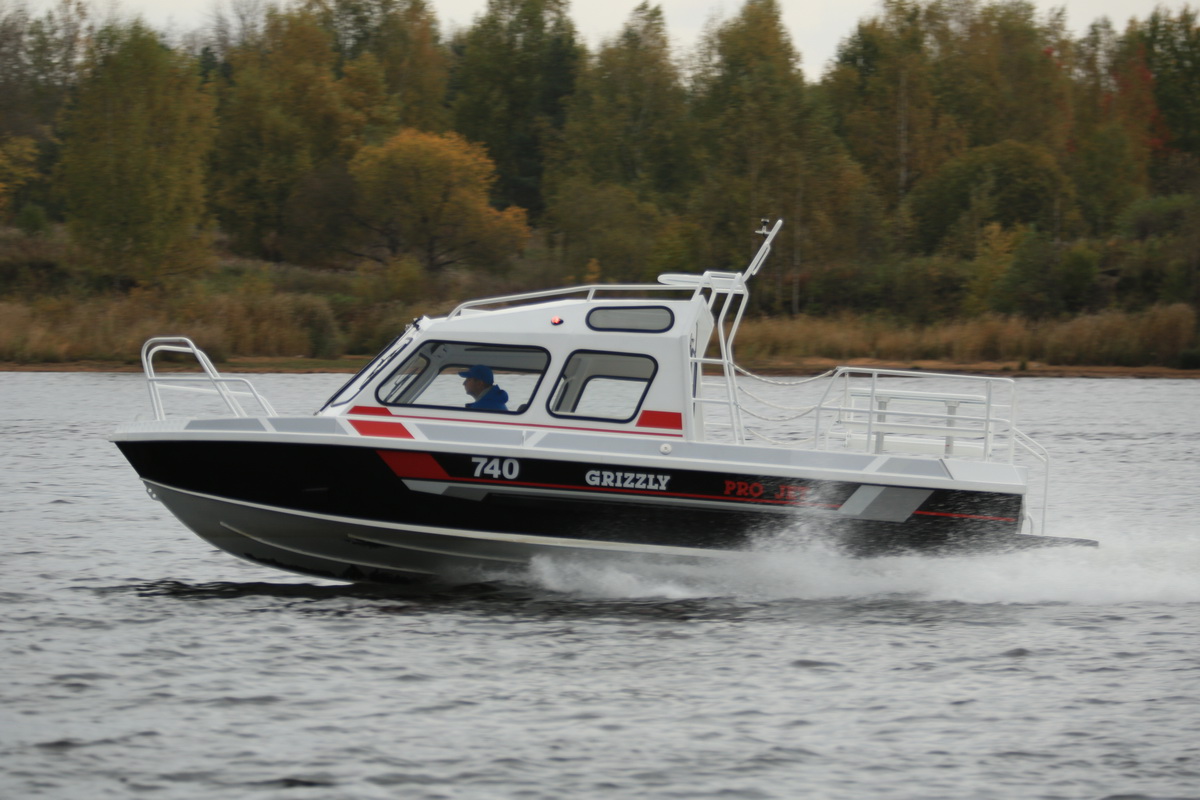 Grizzly 740 CABIN PRO JET
Grizzly 740 CABIN PRO JET
2 120 000 руб
More and more of our citizens study places that are difficult to reach. Siberian rivers are an excellent example of this. However there are places in the European part of Russia that are not less dangerous for walking on a boat. The largest freshwater lake in Europe Ladoga is especially famous for its whims, sudden changes in depth and so on. In such circumstances you will feel much more comfortable in a sturdy and reliable boat. The jet engines are a great solution for such conditions. And Grizzly company has introduced its new development aluminum Pro Series 740 Jet boats. They are equipped with a powerful water jet engine, while retaining all the features of series of boats for harsh environments.
Design Grizzly 740 CABIN PRO JET
The main parameters
Technical specifications
| | | |
| --- | --- | --- |
| Length (including crinoline) | mm. | 7 450 |
| Body length | mm. | 6 600 |
| Maximum Width | mm. | 2 350 |
| Light displacement | t. | 1.45 |
| load capacity | kg. | 800 |
| Draft | m. | 0.26 |
| Deadrise | | 19° |
| bottom thickness | m. | 5 |
| Bead thickness | mm. | 4 |
| Engine power | | 260 л/с. |
| mover | | water-jet stationary with the ability to control the angle of inclination of the outlet nozzle vertically by means of an electric drive |
| Fuel supply | л. | 200 |
| Number of passengers | | 8 people |
| Number of beds | | 2 шт. |
Colour: white.
Steering with a steering cable with motor up to 200 hp
The stationary fuel tank of 200 liters.
Side rails.
Windscreens.
Self-draining cockpit (deck) and a drawer for the bow anchor.
Bow and stern lockers.
Mooring cleats (4 pcs.).
Anti-skid on the bow and stern.
Soft cushion on the seat.
Control Panel.
Running lights.
Electropomp.
Switch with the key.
The box for the battery.
View all
Additional description
Boats Grizzly Pro series has long established itself as a very practical, durable and reliable in its class. Welded aluminum hull of each model is created with all the latest technologies and developments, including innovative techniques developed by Grizzly few years of production. To date the production uses a special marine aluminum alloy AlMG 5-M up to 6 mm thick. Given as a special monitoring during the welding body, PRO Series meets the most stringent requirements and wishes of those who like to be under severe conditions or is forced to do it on duty, is. Boats Grizzly are liked by fans of fishing, hunting and water activities on the territory of Russia. But also they have an ongoing service in the organs and agencies designed to protect maritime borders, conduct patrols and provide security on the water.
Not always It is a sufficient depth under the keel and the water area is predictable. Not all water bodies of the country have electronic sailing with clearly affixed depths and underwater hazards. In such cases the boats equipped with water-jet engine are successfully used. This practice has long applied in Western countries. However, analogs that have come from western countries are characterized by high cost and optimized for slightly different operating conditions.
Taking the good idea we have made a boat that meets all the requirements for use in demanding environments. Scope of this boat is as a rule the river, which stretches deep rifts can replace snags. In such circumstances the use of classic outboard inevitably lead to big problems. The features of the jet engine allow not only the passage of plots with a minimum depth, but also are significantly superior in terms of pulling power at full load. This is extremely important in cases when the boat is used for getting tourist groups in remote places, and therefore, except the passengers, the weight is doubled due to numerous belongings.
It is impossible to define strictly the scope of this model. It's good for fishing, because there is a lot of space, both in the cockpit and enough to stay with a spinning rod in the bow. Boat stability very well suits to all types of fishing. However, not only fishing is the vocation of the boat.
The boat is made of high-strength aluminum alloy, is fully self-contained and due to cutting-cabin can increase the navigation for a few weeks, when in an open boat it is quite uncomfortable. Pro Grizzly boats series features a focus on strict conditions, and this model is a kind of flagship, as for this boat those places are available, to which it is impossible to get on a classic boat. While maintaining all the fundamentals of the company, we make the boat not only reliable and practical, but also comfortable and modern.
A wide range of options allows you to choose exactly what you need, depending on the operating conditions of the boat. All boats are equipped with our company high-quality devices, and each customer has the ability to choose something to his taste and need.
Individual configuration
Contact Grizzly specialists to select a complete set according to your wishes and needs