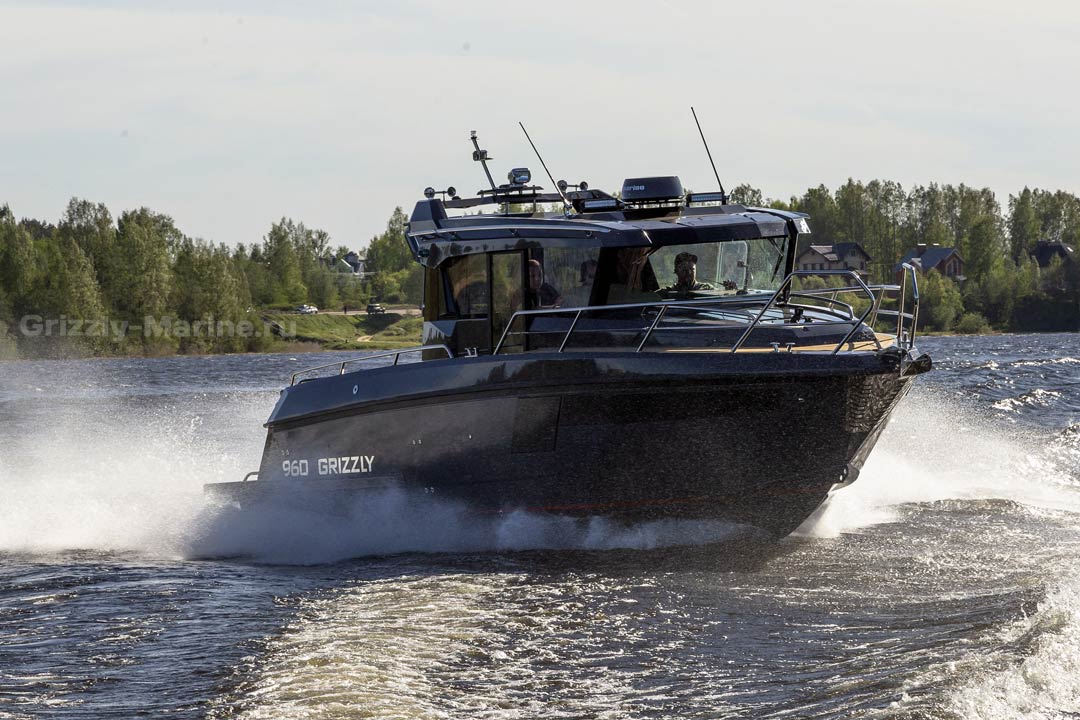 GRIZZLY 960 Unimog
7 924 000 руб
Any modern technique, has a standard specification and an improved one. We've launched an enhanced version of our flagship Grizzly 960 Unimog.
Design GRIZZLY 960 Unimog
The main parameters
Technical specifications
| | |
| --- | --- |
| Hull length | 9.60 м. |
| Maximum width | 3.05 м. |
| Freeboard | 1.50 м. |
| Deadrise | 19º |
| Transom height | 638 mm. |
| Weight | 3,400 kg. |
| Hull | welded |
| Bottom thickness | 6 mm. |
| Board thickness (pressed) | 4 mm. |
| Thickness keel, transom | 10 mm. |
| Engine power (installing two motors each) | 900 h/p, (2×450 h/p, 3×300 h/p.) |
| Hull material | aluminium-magnesium alloy AMG-5M |
| Number of passengers | 8 people |
| Sleeping places | 6 pcs. |
| Fuel tank | 600 litres |
| Freshwater tank | 100 litres |
Hull made of marine grade aluminium (AL Mg5M)
Bottom shell plate – 6 mm. (AL Mg5M)
Flange – 4 mm. (AL Mg5M)
Keel – 10 mm. (AL Mg5M)
Reinforced transom – 20 mm. (AL Mg5M)
Reinforced transversive- longitudinal set  – 5 mm. (AL Mg5M)
Reinforced hull
Hull colour (grey)
Reinforced mooring cleats
Bow guard for anchor
Spotlight mounting platform
Radar site
Sliding hatches in the deckhouse roof – 2 pcs.
Crane storage niche
Bow railing on deckhouse roof
Railing rescess – 1 pc.
Transom plates
Decorative stern cover
Deck made of impact resistant plastic with Premium Gelcoat class (colour white)
Non-slip coating on bow, stern, side deck  (plastic)
Permanent fender
Glass rear cab wall
Sliding window on the port side of deckhouse
Glass sliding door in the cabin (with door lock) with entrance to cockpit
Glass sliding door on deckhouse starboard
Glass deck hatch in bow cabin
Bow deck cup holders – 2 pcs.
Stainless steel bow grabrails Ø 32 mm.
Stainless steel stern grabrails Ø 32 mm.
Stainless steel roof railing on deckhouse, Ø 32 mm.
Panoramic interior glazing (tempered glass, 6 mm)
Mooring cleats – 6 pcs. (stainless steel)
Bow cabin for two beds
Aft cabin for two beds
Soft padding (mattresses) berths at bow cabin (textile)
Soft padding (mattresses) berths in aft cabin ( textile)
Lockers under the berths – 4 pcs. (white plastic)
Sofa into cabin port side – 2 pcs.
Table on telescopic leg in the cabin
Drawer lockers – 5 pcs.
Lockers (with doors) in the cabin- 4 pcs. (white plastic)
Refrigerator interior compartment
Interior upholstery material (fabric)
Captain's chair (fabric)
Fuel level
Compass
Helm with GRIZZLY logo
Cabin lights – 6 pcs.
Socket- 12 V
Fresh water tank – 100 litres. (galley block)
Pumping latrine, sink, mixer tap
Lockable door to the lavatory
Shower interior compartment
Galley block (sink, gas hob)
Fuse box
Ignition key 300A
Navigation lights – 2 pcs.
Parking light
Headlight
Electric bilge pump – 4 pcs. (automatic)
Cockpit lockers – 3 pcs.
Fuel tank – 600 litres
Hydraulic steering system
Transom plates
Windshield wipers – 2 units
View all
Additional description
The Grizzly Unimog range of boats became popular with several smaller models. A combination of distinctive styling and a range of unique technical solutions is its main feature considering the reinforcement of the hull. The Unimogs have been designed to withstand the toughest conditions and the most powerful engines.
The visual identity of the Unimog models is the combination of the base colour and the hull elements, forming a common, recognisable style.
However, most of the hull components that form the Unimog's style are very real and practical.
Today more and more people are looking for independence and comfort, the opportunity not to be bound to a particular location. Modern technology allows us to do this comfortably. The Unimog version of the Grizzly 960 is a great combination of a few unique solutions, a robust and reliable hull and outstanding exterior finishes. Navigability and high-speed performance are combined with the ability to extend cruising distance. Whatever the purpose of the voyage for family holiday or a fishing holiday with friends.
Individual configuration
Contact Grizzly specialists to select a complete set according to your wishes and needs