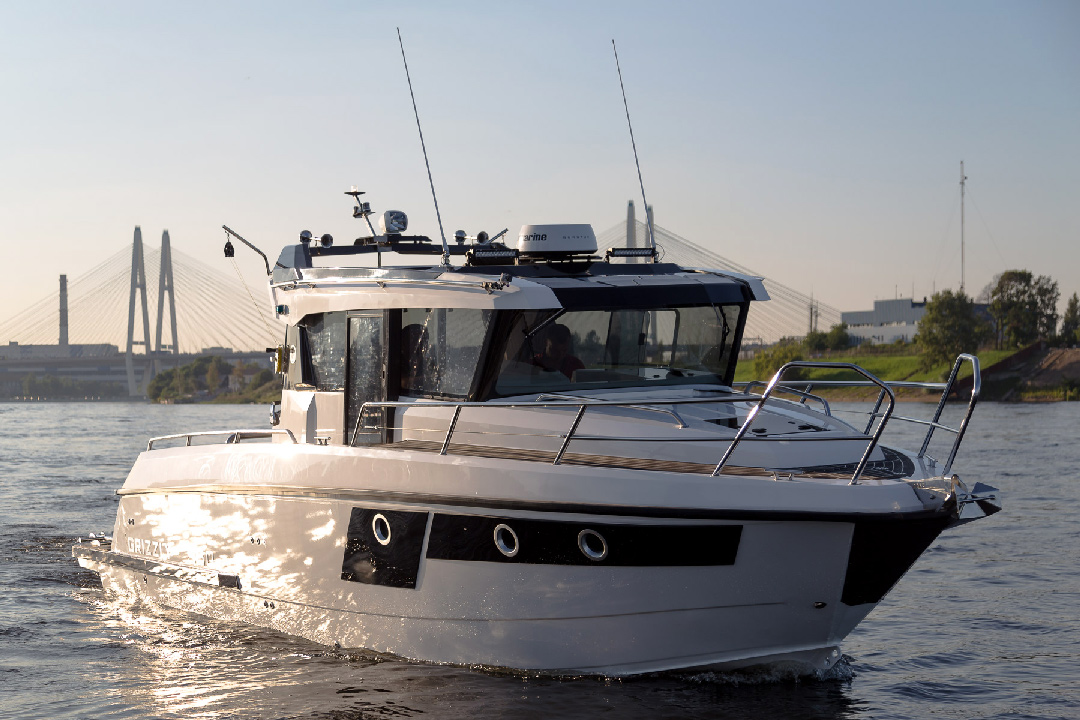 GRIZZLY 960
7 250 000 руб
The number one product in this class, the largest twin-engined boat. It incorporates all of the best Grizzly designs and current trends. Distinguished not only against the background of the manufacturer's model range, but also in the water, against the background of other boats.
Powerful and robust aluminium hull and composite top: deck and deckhouse, as a result, have created a boat that is unpretentious and reliable, with a driving performance that allows to compete with the world's most famous brands. At the same time, in terms of aesthetics and comfort it is fully compliant with the modern CRUISER class boats. In addition to a spacious deckhouse with galley, fridge and sleeper for two, the boat has two full-fledged cabins, increasing the number of sleeping areas to six and a spacious lavatory with shower. The boat is equally suitable as a DAY CRUISER, an expedition boat with the ability to travel long distances autonomously; a fishing boat for lovers comfortable experience.
The main parameters
Technical specifications
| | |
| --- | --- |
| Hull length | 9.60 м. |
| Maximum width | 3.05 м. |
| Freeboard | 1.50 м. |
| Deadrise | 19º |
| Transom height | 638 mm. |
| Weight | 3,400 kg. |
| Hull | welded |
| Bottom thickness | 6 mm. |
| Board thickness (pressed) | 4 mm. |
| Thickness keel, transom | 10 mm. |
| Engine power (installing two motors each) | 2 x 200-400 hp |
| Hull material | aluminium-magnesium alloy AMG-5M |
| Number of passengers | 8 people |
| Sleeping places | 6 pcs. |
| Fuel tank | 600 litres |
| Freshwater tank | 100 litres |
Hull made of marine grade aluminium (AL Mg5M)Bottom shell plate – 6 mm. (AL Mg5M)Flange – 4 mm. (AL Mg5M). Keel – 10 mm. (AL Mg5M)

Reinforced transom – 20 mm. (AL Mg5M)

Reinforced transversive- longitudinal set  – 5 mm. (AL Mg5M)

Hull colour (white)

Deck made of impact resistant plastic with gelcoat Premium class (colour white)

Non-slip coating on bow, stern, side deck (plastic)

Permanent fender

Glass rear cab wall

Sliding window on the port side of deckhouse

Glass sliding door in the cabin (with door lock) with entrance to cockpit

Glass sliding door on deckhouse starboard

Glass deck hatch in bow cabin

Bow deck cup holders – 2 pcs.

Stainless steel bow grabrails Ø 32 mm.

Stainless steel stern grabrails Ø 32 mm.

Stainless steel roof railing on deckhouse, Ø 32 mm.

Panoramic interior glazing (tempered glass, 6 mm)

Mooring cleats – 6 pcs. (stainless steel)

Bow cabin for two beds

Aft cabin for two beds

Soft padding (mattresses) berths at bow cabin (textile)

Soft padding (mattresses) berths in aft cabin ( textile)

Lockers under the berths – 4 pcs. (white plastic)

Sofa into cabin port side – 2 pcs.

Table on telescopic leg in the cabin

Drawer lockers – 5 pcs.

Lockers (with doors) in the cabin- 4 pcs. (white plastic)

Refrigerator interior compartment

Interior upholstery material (fabric)

Captain's chair (fabric)

Fuel level

Compass

Helm with GRIZZLY logo

Cabin lights – 6 pcs.

Socket – 12 V

Fresh water tank – 100 litres. (galley block)

Pumping latrine, sink, mixer tap.

Lockable door to the lavatory

Shower interior compartment

Galley block (sink, gas hob)

Fuse box

Ignition key 300A

Navigation lights – 2 pcs.

Parking light

Headlight

Electric bilge pump – 4 pcs. (automatic)

Cockpit lockers – 3 pcs.

Fuel tank – 600 litres.

Hydraulic steering system

Transom plates

Windshield wipers – 2 units.
View all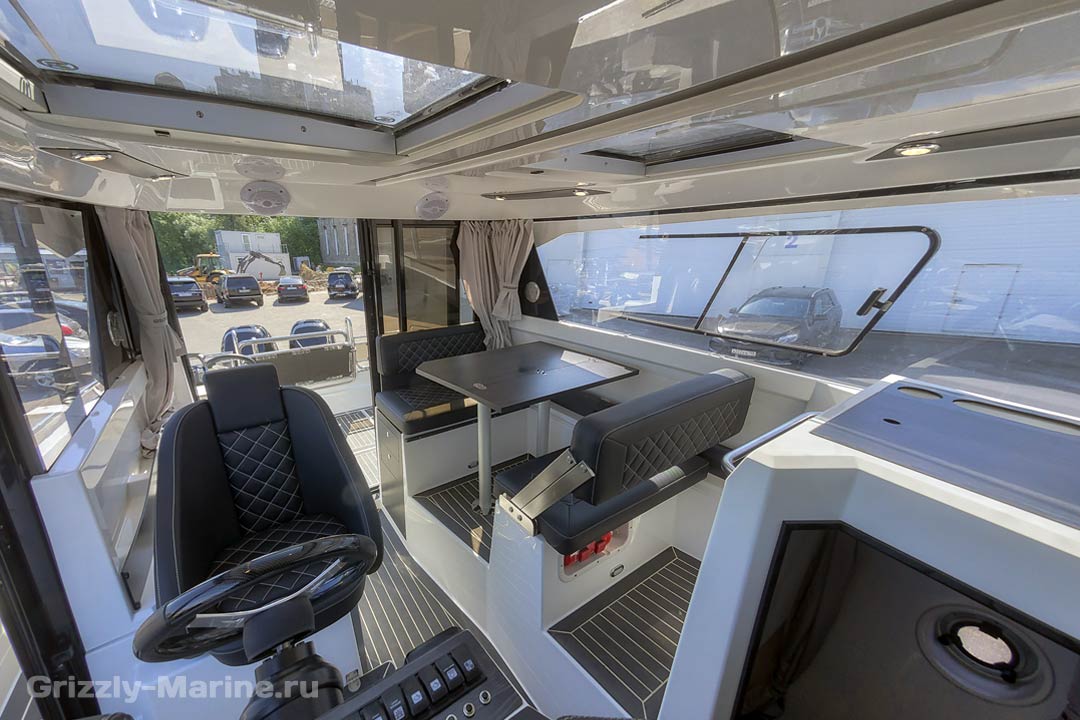 Панорама интерьера
Additional description
As a real flagship of a large boatyard with a long history, the GRIZZLY 960 incorporates all of the company's best expertise gained over the years of boat production. The growing demand for larger size of boats with a completely different level of habitability made this model a new addition to the GRIZZLY range. However, this boat didn't become one of these, but represents a unique project which has no analogues on the market today. First and foremost, it's all about its two-part hull. Where the core of the hull is made of powerful and extremely durable aluminum of special marine grade, and the upper part (deck and deckhouse), as well as the cabins, are made of fiberglass, traditional for cruise and sport boats, and finished with the modern materials, providing the highest level of comfort on board.
The boat has excellent technical characteristics. Perfectly controllable at low speeds, has a quick and comfortable planing mode. Has a high speed in a displacement mode and lowest minimum speed in planing mode. Thus accelerating in cruising mode over 60 km/hour, and maximum about 95 km/hour, which allows comparing it with a class of sport cruisers.
At the same time thanks to its powerful aluminium hull it is not fussy and allows to operate in difficult and dangerous areas, when it is necessary regularly mooring to the shore. Primarily, this greatly extends the geographical reach of this model and hence the boundaries of the voyage for the owner. No secret that the majority of cruising and motor boats, despite their good habitability, are not suitable for long self-contained expeditions and are tied to a marina. GRIZZLY 960 provides good sailing characteristics and excellent habitability and is perfectly suited for long expeditions and OFF-SHORE fishing.
Driving and seaworthiness are ensured not only by the good contours, but also by the three pairs of water gripping sponson. The thruster provides comfortable steering at low speeds when 'parked' in the marina or approaching the quay wall. The hull is stylish and modern. A special cover is placed at the bow of the boat which is not only decorative but also very practical: it protects the hull from damage while heaving up of the anchor. The anchor winch is recessed in a special self-draining anchor locker. This provides easy access to the bow of the boat and makes it possible to reach the shore if necessary.
Main and bottom permanent fender serve for additional protection of the hull during mooring with the quay wall or another vessel. The subdivision of the hull is ensured by four independent compartments, each fitted with an automatic dewatering pump.
The GRIZZLY range also includes a tilting windscreen. A worldwide trend in recent years. In this position, there is considerably less solar glare and no water or rain spray are retained on the windscreen. And that has a positive impact on comfort and safety on the controls.
The boat has a dual engine installed on the transom. This is also a modern trend: moving away from the mono-engine set-up. Dual engines provide better controllability, manoeuvrability, more stable entry to planing mode, allows you to make a complete 360-degree turn virtually staying in the same position. Moreover, it provides greater safety in case of failure of one of the engines. The total power of the engines can vary from 2 x 200 to 2 x 400 hp. On request of the owner, the "joystick" engine management system can be installed. Transom plates working in automatic mode or the modern ZIPWAKE system. Avoiding side swaying and dodging effects.
Entrance to the spacious swimming platform is provided by a heavy duty folding "goose step" ladder. Extended crinolines and overall swimming platform space make this area suitable for use during fishing, water activities or engine maintenance. Access to the cockpit is from both sides, where swinging doors are fitted for safety, preventing free access to the swimming platform. This is very important if children are on board. Both the aft deck and the entire perimeter of the hull are equipped with strong and secure handrails. This is also important for safety and if necessary additional equipment can easily be fitted.
The aft cockpit is very spacious and multifunctional. If the boat is to be used as a fishing boat, it can be either left free or fitted with a flyer (aerable cage). Additional equipment can also be fitted. A table and seats, for example. The deck contains a few large storage lockers.
The boat is performed according to the WALKAROUND concept, but also has a peculiarity. The deckhouse is displaced to port side. Thus, the port side aisle is normal and the starboard aisle is significantly wider. This is done because the starboard side (captain's side) is the most frequently used for operations. First of all, during mooring.
The bow deck can be used while fishing. It is spacious enough and the high railing ensures safety in this part of the hull. Furthermore, there is also an area where you can place a so called 'sun-deck' or a special deck-chair for sunbathers. There is also a cupholder on both sides.
The roof of the cab is multifunctional. There is placed a LED working light beam. On the radar arch there are sound horns, radio antennas, remote control headlamp and the navigation system radar antenna. The hull of the deckhouse is very robust and can withstand heavy, bulky cargo. You can place an inflatable boat tender or other expedition gear here.
A targa with a spinnin-holder and sailplane system can also be installed in the back of the deckhouse. The boat is perfect for trolling on large water bodies. Entrance to the cockpit is provided by a sliding double door with a system of fixing in different positions.
On the starboard side there is a section of the caboose. A sink and gas cooker, a 220V socket powered by the shore power system. And a washbasin. There is also a cupboard and handy shelves for cooking utensils and provisions. There is a 50 litre 12V refrigerator under the captain's seat.
At the starboard side there is a crew compartment where four people can be seated comfortably at the table. The table can be folded down to make a sleeping place for two if needed.
The control station is designed with classic GRIZZLY styling and easily accommodates several navigation devices with a 9-inch display, autopilot and engine control system. All of the captain's instruments are also integrated. The stylish helm is height-adjustable, and so has the comfortable captain's chair. This allows you to choose the right configuration suited to personal requirements of the boat's owner.
A very important detail in this part of the hull: the door on the captain's side. Its value is hard to overestimate. It is both the quickest, most convenient and safest way to the fore cockpit. The ability to quickly receive mooring lines or tie up the cranes and even go ashore in certain cases. The sliding door serves as additional ventilation. And of course, being an additional exit affects the safety of being in the cockpit.
The deck deck floor in the cockpit has additional lighting to allow you to navigate the boat comfortably and safely at night, and the light does not interfere with the captain's control of the boat. At the front of the hull there is a spacious lavatory with washbasin and shower. A full guest stateroom to port and a large master stateroom forward. With additional bulkheads, lockers and shelves. As well as several portholes and fore-suite for extra ventilation.
The space and capacity of the hull allow you to fill your boat with the equipment you need, depending on your boat's purpose. Whether it's a family weekend trip, an active holiday with friends, a long expedition or a fishing trip. A boat is equally suitable as a comfortable means of water transport or as a place for an autonomous voyage. It all depends on your wishes.
Individual configuration
Contact Grizzly specialists to select a complete set according to your wishes and needs