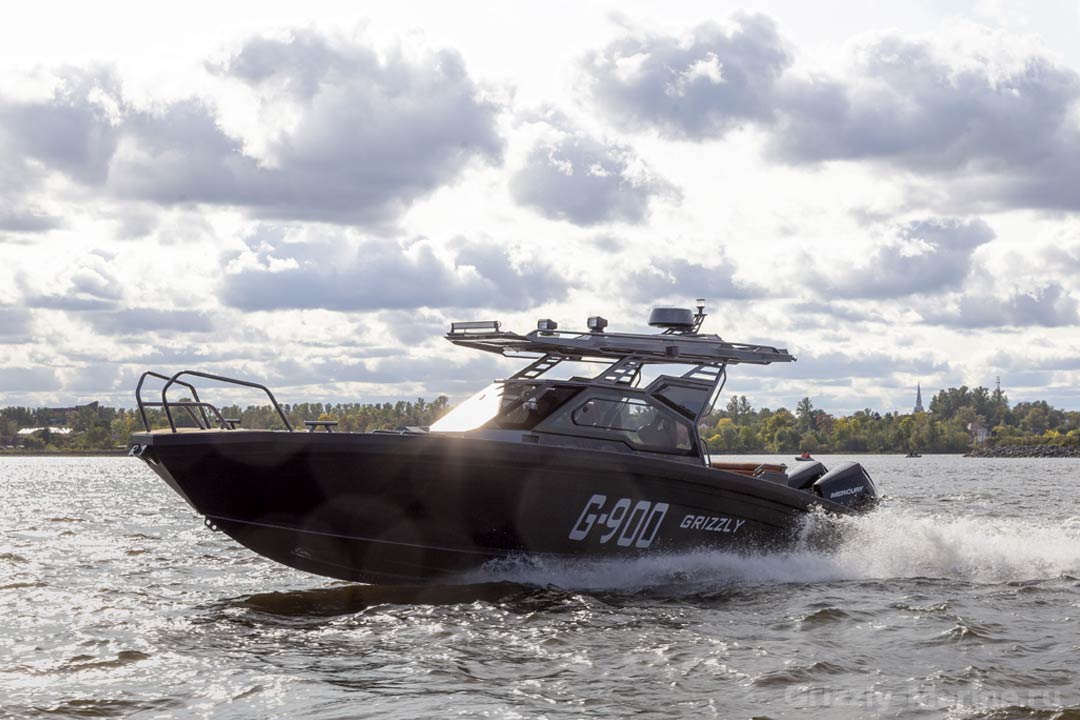 Grizzly G900
5 200 000 руб
The Grizzly G900 is not just another new boat from the yard for the 2020 season. It is conceptually and technically different not only from other Grizzly models, but also from anything else on the boat market today. A truly unique boat model designed for particularly challenging conditions.
Like always, at the planning stage we strived to respond to the needs of our most demanding customers. We oriented on modern trends and tendencies and created a model not of today but of tomorrow!
The main features of the Grizzly G900 are the overall concept. A combination of a formally open model, with maximum comfort during cruising; accommodation facilities in a full-fledged cabin; flawlessly smooth handling; and unique seaworthiness. Possibility, but not necessity, to install motors with power up to 900 hp. Best indicators of dynamics, stability, boats' ability to overcome distance in the open waters and appreciable roll. In conditions no other boat models are available.
The G900 is the model for those who value their time; those who understand what comfort and real safety mean. For those who love speed. But speed with full control of the boat. For whom attention to detail and design are just as important as the quality of those details and the model as a whole.
The result of all these initial conditions is the absolutely uncompromising Grizzly G900!
The main parameters
Technical specifications
| | |
| --- | --- |
| Hull length | 9.50 м. |
| Maximum width | 3.050 м. |
| Freeboard | 1.250 м. |
| Deadrise | 21º |
| Transom height | 510 mm. |
| Weight | 2600 kg. |
| Hull | welded |
| Bottom thickness | 5 mm. |
| Board thickness (pressed) | 4 mm. |
| Thickness keel, transom | 25 mm. |
| Engine power (installing two motors each) | 900 hp |
| Fuel tank | 600 l |
| Number of passengers | 10 people |
| Sleeping places | 2 pcs. |
Hull made of marine grade aluminium (AL Mg5M)
-Bottom shell plate – 5 mm. (AL Mg5M)
-Flange – 4 mm. (AL Mg5M)
-Keel – 25 mm. (AL Mg5M)
-Transom – 20 mm. (AL Mg5M)
-Transom height – 638 mm. (AL Mg5M)
-Transversive- longitudinal set – 5 to 10 mm. (AL Mg5M)
-Mooring cleats reinforced – 6 pcs. (AL Mg5M)
-The colour of the hull is grey
-Bow guard, anchor plate
-Storage drawer for the fenders
-Bow and hull perimeter railing
-Deck with non-slip coating
    – Floorboard foam, vandal resistant
– Lift door to cabin with sunroof
– Panoramic glazing in cockpit (8mm toughened glass)
– Panoramic glazing centre console (8mm toughened glass)
– Soft padded mattresses, on cabin berths (marine vinyl)
– Lockers under aft cockpit
– Space for fridge installation
– Captain's chair + 2 additional passenger chairs (anatomical sports seats, marine vinyl). Swivel 360º, on pneumatic elements adjustable in height and firmness
– Helm with GRIZZLY logo
– Interior lighting for cabin and console
– Ignition key – 300A.
– Navigation lights – 2 pcs.
– Electric bilge pump – 3 pcs. (automatic).
– Fuel tank – 600 litres.
– Windshield wiper – 1pc.
– Fuse box – 1 pc.
View all
Electric or pumping lavatory
Galley unit
Fresh water tank
Water pump with control box
Domestic hot water boiler
Socket 220V on-board power supply.
220V shore side power cable.
Shore power unit with automatic battery charger
Anchor winch
Refrigerator built-in
Headlamp radio controlled
Sound signal built-in
Wireless (river, sea)
Teak artificial turf
Table to cockpit 4 cup holders
Sound system (4 speakers).
Helm autonomous system
4KW autonomous heater
Transom plates or interceptors
Navigation system
Engine installation
View all
Additional description
The Grizzly G900 was first announced only at the end of summer 2020. However, this moment was followed a long, painstaking and serious work of realizing the ideas behind this model. To create a completely unconventional model. Extraordinary, but wholly functional and practical. Not just occupying, but creating a new niche. Fast, sailing, reliable all-weather boats which are intended for solving a wide range of problems. Starting from sea fishing in difficult conditions, up to any special conditions, serving different departments and special purpose organizations.
The boat Grizzly G900 can be formally classified as open-top model only. The rigid roof and heavy-duty windscreen provide a protective cockpit and steering area. So much so that even in heavy rain, at highway speeds, there will be no splash inside. And the space between the roof and the windscreen provides a constant flow of fresh air, for better visibility when maneuvering in confined spaces or during the hours of darkness.
The rigid roof with panoramic windows not only ensures that the deckhouse space is always protected from rain or splashing. Without the insecure installation of a running awning. The roof provides for navigation and sound horn antennas, lighting and, if necessary, communication antennas or other devices.
Seaworthiness of boat Grizzly G900 is provided by displacement of centre of gravity of the boat to the area of midship and below waterline. That's why the hull doesn't jump from wave to wave and glides on water surface like a surfer. This eliminates hard bumps on the waves. This in turn affects both personal comfort on board and the durability and longevity of the numerous components in the hull and instruments. This allows you to navigate through rough seas at much greater speeds.
The same design feature also provides for less hull shake in static mode. Despite the relatively significant degree of deadrise. This makes the G900 suitable for saltwater fishing. Such as vertical fishing for cod or halibut, so popular among the most experienced fishermen in recent years. Reducing side rocking also makes it easier to tackle other tasks in rough seas. Whether it's preparing diving equipment or anything else.
The special geometry of the bow of the hull provides a better surge. This is critical when navigating in open sea conditions. The overall geometry of the hull, combined with the special design of the fenders, absorbs much of the spray. Making it easier for the skipper to see.
One of the key parameters of a boat hull is absolutely tight deck and absence of the stern bulkhead. This allows instant and unrestricted drainage of water entering the cockpit. Moving in conditions of noticeable roughness, the hull can inevitably pile up into a wave, taking a huge volume of water onboard. This can result in shifting weight and multiplying the load. In which case the engines may not be able to cope. This, too, is an important addition to the G900's overall safety.
Cabin. It is not always convenient or even possible to return to the base camp or home marina. There may be many different situations in which an overnight stay in the field will be necessary. Camping on shore is not always convenient or even safe. Therefore, camping in a boat is convenient, necessary and safe. Depending on the circumstances, transforming armchairs into sleeping berths and installing an awning is certainly a solution, but a very compromising one. The G900 is uncompromising. And that's why it's equipped with a full-fledged cabin, allowing three crew members to sleep overnight.
Latrine. Is it comfort or safety? If the boat is in the vicinity of a busy marina, on calm waters, it's more of a comfort. But, if you find yourself in noticeable rough seas, security is the better option. And since the G900 is designed for rough seas, the G900 also has a compartment for the safety of both the passengers and the skipper.
The Grizzly G900 is functional, practical, stylish and modern. It is equipped with everything you need for comfortable cruising. It can be used as a mobile water transport vehicle. And as an expedition boat for long trips. A variety of equipment options allows you to focus on the options that are most relevant to you. Whether it's the interior materials or installing additional options. Like a galley or fishing equipment.
The G900 is the model for those who want to push their limits, without sacrificing comfort and safety. You can find out more about this model by watching the full video review of this model or by giving us a call.
Individual configuration
Contact Grizzly specialists to select a complete set according to your wishes and needs