Outboard motors > Outboard motors Mercury > Outboard motors SEA PRO > Mercury 15M / ML Sea Pro boat motor
Mercury 15M / ML Sea Pro boat motor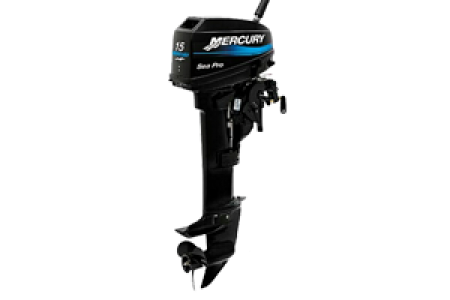 Technical specifications
| | |
| --- | --- |
| Maximum power HP / kW | 15 / 11.2 |
| Maximum speed | 5200-5800 |
| Number of cylinders | 2 |
| Engine capacity, cm3 | 262 |
| Bore x stroke, mm | 60X46 |
| Intake system | Cross inlet |
| Exhaust system | Through screw |
| Cooling | Seawater with a thermostat and pressure control |
| Ignition | Discharging the capacitor module CDI |
| Starting | Manual |
| Gear ratio | 2.00 |
| Control System | Tiller |
| Adjusting the trim | 3+3 |
| Transfers | P.h.-N.-3.h. |
| Drive shaft length, mm | short 381, long 508 |
| Fuel tank, l | 25, outside |
| Dry Weight | 42 |
| Standard screw | Aluminum, 3x9x9 |
Additional description
Motors without remote control differs with multifunction tiller, controlling throttle angle, adjust the resistance on the throttle grip, stop and start the engine, which is very convenient for work, leisure and fishing lure. Special handling and mounting ring of magnets attaching gives the reliability to the flywheel. Side gearshift lever of strengthened design ensures reliable operation throughout its lifetime.
Legend modifications:
M – manual start; E – Electric start-up; L – length of shaft hull 508mm; XL – length of shaft hull 635mm; No L, XL – length of shaft hull 381mm; O – automatic of petrol with oil .; PT – electric hydrolift; C – reverse rotation of the screw; EFI electric fuel injection; SW – for salt water; F – four-stroke engine; SeaPro – for commercial use; Sail – extra motor for yachts; BF – load reducer for heavy crafts; OptiMax – direct fuel injection; JET – the water jet engine.