Test of 250 hp outboard motors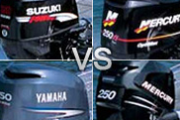 On Lake Bull Shoals Lake in mid-spring, the company charged gathered 250 strong motors main producers, with the exception of Evinrude. All motors have been installed on the same type of boat Ranger 620 VS. And the following company: Three four-stroke motors – Suzuki DF 250, Yamaha F 250 and Verado 250 and a two-stroke Mercury 250 XS Optimax. With these engines, we expect to get a fairly similar measurements. So it turned, except the maximum speed and acceleration dynamics.
INSTALLATION AND SETUP
We chose Ranger 620 VS as a test platform for several reasons. Since Suzuki DF 250 is not in the arsenal of a 20-inch shaft, but we wanted to compare this engine with the other, the choice fell on the body with a minimum height of the transom 25″. This immediately excluded all fishing and multifunction variants boats. Unfortunately it is worth noting, I had to leave Yamaha 250 HPDI, which this year began to produce only version with 25 "shaft, and the former option was removed from production. We also wanted to see how much power and the ability to accelerate these motors designed for much heavier loads, will be combined with this boat. In the end, we realize that the achieved rate and so on. dynamic parameters are not clearly perceived by those who wanted to see what they can squeeze out of this a light boat. But Ranger 620 VS showed himself very stable, meaning stable results, which is one of the main conditions of such tests. Personally, I like to reach speeds up to light speed boats, but in these tests is more important than it had been stable results. Our test is very easy to carry out, thanks to the guys from the Ranger team. And in general, to work with them was a pleasure. All the buildings were carefully chosen so that they were almost identical, which allowed us to obtain accurate results.
The weather was far from ideal, which all dreamed and prayed, but what is good, so it is at least not fickle. So that all the tests were conducted under the same conditions. For all measurements it was true figures, which are expected and always BWB readers.
THE GAME HAS BEGUN
Of our test procedure was identical to the previous one. Firstly, factory representatives were allowed to make the appropriate settings at their discretion. While the Ranger team and has done most of the work in advance, the remaining part they have completed together with factory representatives. After arriving at the place we once again checked all the settings on the land, on the boats, engines and equipment.
Attentively to all points of this review. Then, all the engines were removed and weighed with electronic scales with fuel, oil, screw, hydraulic cylinder with hoses and cap. Hence the great performance than the factory brochures, which indicate the dry weight. We then poured on 51 gallon (193l) in the fuel tanks of each boat and weighed them, and trailers. Empty trailers we weighed in advance, so we just subtract the weight of the trailer, motor and wines from the total weight, leaving the fuel, equipment and accessories. In this scenario, a boat with Verado proved most difficult. With Yamaha boat it was 45.4 kg lighter, so this boat is hung handicap was similar mass. 250XS received 7.7 kg of ballast, and Suzuki 29,5 kg. We do not equilibrated motors, namely the boat with them. Then, carefully recorded all the data on the boats, engines, propellers, the settings used during the test.
Speed and acceleration – two-stroke Insolence
In this discipline was not equal Mercury 250 XS Opti. It is an unequivocal champion in this company, and with a noticeable margin. He set a record at around 64.5 m / hr with a 4-bladed propeller BravoI Lab Finished 24th step at 5800 rev / min.
Next him Verado with a 3-bladed propeller Tempest Plus Lab Finished 23th pitch reached 63 m / h at 6140 rev / min.
Third Yamaha came to the standard 3-blade propeller VX-MAX 23th step, reaching 60 m / h at 6000 rev / min.
In the battle for a top speed of Suzuki was the last – 58.6 m / h in 3 blade propeller 24.5 th step at 6100 rev / min.
We should note that Suzuki motors traditionally tend to be on top, and after a few preliminary tests screws, Suzuki engineers decided to raise the engine, but in this case they were disappointed. According to the dynamics of acceleration situation was the following.
Mercury 250 XS shot from a standstill to 30 m / h in 6.2 seconds, 6.6 seconds behind Verado, very close time brought Suzuki – 6.7 seconds, well, Yamaha brought for 7.7 seconds!
Acceleration on average, from 30 to 50 m / h, the range showed slightly different results: This is where all put in place 250 XS! He easily reached the set speed for 6 sec. It turned out to be coming from Verado, but with what result – 8.1 seconds. Yamaha showed the 3rd place with 8.3 seconds, and Suzuki – as much as 9.3 seconds. In order to avoid any doubt, we measured the performance in four different ways.
Two handheld Garmin GPS 12 installed on the boat Lowrance GPS, which by the way, it was a pleasure to use, and calibrated the police Stalker Pro K-Band radar manual. To read the speed, we used our own tachometer Flow Scan for all engines.
But fuel economy presented a real surprise. For us, the editorial board BWB it was not a surprise, but for some it may become a disappointment.
Push-pull XS 250 with difficulty, but added itself another victory in this competition. With an average consumption of 3.5 mpg, he walked by 0.1 mpg Suzuki, 0.3 mpg Yamaha. But quite swallow Verado proved its 2.9 mpg consumption. Given the current fuel prices it's pretty important test. We checked these figures several times and each time came to them again. We also checked the figures with the help of the factory fuel gauges provided by representatives of Mercury and Yamaha.
While XS prevailed on average over the entire range, the Suzuki showed the best result in the cruise speed range – 4.3 mpg at 3000 rev / min and a speed of 24.7 m / h, which is 0.1 mpg better than the XS 250 with the same parameters.
AND WHAT OUTDOOR NOISE?
Previously, we had to record the noise standard analog devices such as a routine part of any test that takes up to now, our sister publications Trailer Boats. But in these tests, which was attended by 4-stroke engines, it was so quiet that we pohvatali our digital sound level meters and ran to work. Readings were taken from the transom to the twentieth, at 3500 rev / min and maximum speed. Here, the absolute winner was Verado. It was so quiet that it was literally impossible to understand – it works or not in the twentieth century, especially if there was even a small wave or wind. And we really have to look several times to understand it. On the twentieth Verado made a noise by 64 dB on the transom and 56 dB at the control panel.
He was obviously quieter than the others. Complaints howling control amplifier, which have been on previous models, according to the representatives of the plant in the past.
It really is incredibly quiet engine. When gunning the engine uttered a piercing vysokooborotisty sound exactly like a jet engine, probably due to the turbocharger and partly the special design of the crankshaft and moving parts.
Suzuki was also very quiet motor., But not as much as the leader. It sounds very nice and even when you give full throttle, the engine overloaded impression is not created.
Yamaha was making the best car sound ochobenno on the twentieth, and when you give full throttle, the engine sounds like mnogolitrovy diesel engines. As expected, XS Opti – the loudest of the entire company. He published the traditional two-stroke roar, even working at 5800 rev / min for the rest of the hole. And it is even more aggravated by the open exhaust channels in the upper part of the deadwood. But even in the twentieth century, when these channels overlap with water, it was still loud.Subjective evaluation. QUALITY ASSESSMENT.
In this part there is only our opinion. We will only describe how it was.
Verado most balanced motor, quiet and very easy to drive. It just shines on all parameters. His DTS system (un cable) really unattainable above all the traditional type of cable management systems installed on other engines. Integrated system gain control smoother and easier to manage than Teleflex system. This motor is much easier to manage, transfer switch, run, in general – a real pleasure as a whole. Without a doubt, this engine, as they say in advertising, this outboard propulsion system against conventional outboards.
Suzuki literally trod on the heels of the leader. All manipulations with the engine running and the boat is traditionally a clear, smooth and predictable. But the gearbox a little rude during switching, like a tough job XS.
In general, smooth and precise operation retains the traditional fun of a boat equipped with this engine.
Yamaha and Merc XS Opti are characteristic of two stroke habits. Switching not as smooth. In fairness, switch Yamaha silent, in contrast to the XS, which is in a similar situation just rumbles. Yamaha is working very well, as all that she does. One can only wish that its experts were able to change the sound of the engine and the exhaust to a more pleasant. Since this is the Yamaha, you can be sure that there will be an adequate response.
XS obviously rattling engine, a rough and noisy. As with most Mercury Racing products, but this is what allows them to fit.
In general, all four engines were simply fantastic. And although it was expected in the first place by Yamaha, all the other easily meet its standards. Even XS was excellent. And it seems Verado racing teams use technology.
CONCLUSION
It is understood that the four-stroke motors have a long way to the top maximum speed, acceleration and fuel economy even while they will not be able to catch up fine-tuned two-stroke engine, like 250XS Opti. We regret to mark the end of production of two-stroke Yamaha VMAX HPDI. We note an extraordinary surprise, speaking of prices, which is presented Verado, whose price is $ 19140, for XS 250 – 19688 $, the Yamaha F250 – $ 19900 and Suzuki DF 250 – 20182 $. Unfortunately warranty 2years XS 250, as opposed to 3 years for the others.
Outright leader in these tests, for whom the important top speed, acceleration dynamics and fuel economy – XS 250 Optimax. Verado could compete for the championship, if not gluttony. But given all the other indicators are no doubt worthy of second place. The rest has also shown enviable results.
On fishing, efficiency, reliability and ease of operation were for me the defining parameters, but I would be happy to have any of these engines on his boat. And when it comes to top speed, acceleration and efficiency among these monsters, which is very important among them (I'd like to see at least one normal Americans, for whom it would not matter), there is no equal XS 250.
A source: www.velhod.ru
September 2007