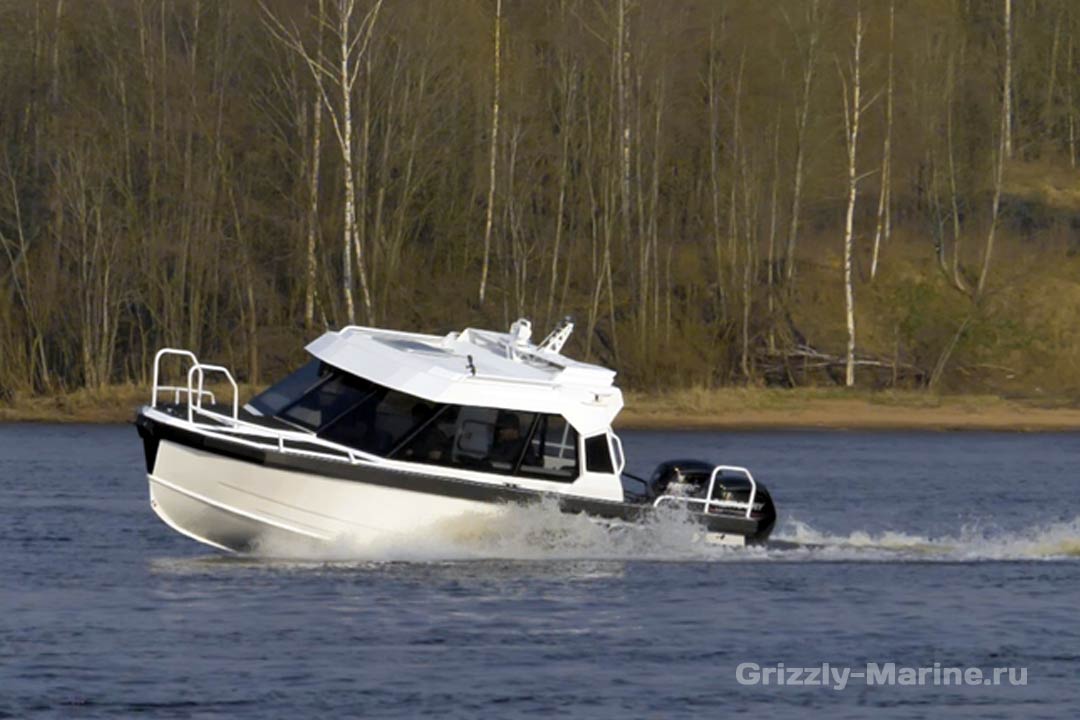 GRIZZLY G680 PRO TWIN Cruiser
GRIZZLY G680 PRO TWIN Cruiser
2 230 000 руб
The new GRIZZLY G680 PRO TWIN Cruiser takes its proper place in the Grizzly range and seriously competes with older boats, thanks to its good habitability, seaworthiness, and operating comfort. The boat will appeal to serious anglers and those who like to travel far from civilisation, or for special purposes, professional coastal services and agencies.
The boat has a twin outboard installed on the transom and this is one of the main features of this model, which also reveals the presence of the word twin, in the boat's name. Which means twin propulsion system.
Design GRIZZLY G680 PRO TWIN Cruiser
The main parameters
Technical specifications
| | |
| --- | --- |
| Hull length | 7.050 м. |
| Maximum width | 2.500 м. |
| Freeboard | 1.450 м. |
| Deadrise | 19º |
| Transom height | 510-635 mm. |
| Weight | 800 kg. |
| Hull | welded |
| Bottom thickness | 5 mm. |
| Board thickness (pressed) | 4 mm. |
| Thickness keel, transom | 10 mm. |
| Engine power (installing two motors each) | 2*115 hp |
| Fuel tank | 240 l |
| Number of passengers | 8 people |
| Sleeping places | 2 pcs. |
Hull made of marine grade aluminium (AL Mg5M)
Bottom shell plate – 5 mm. (AL Mg5M)
Flange – 4 mm. (AL Mg5M)
Keel – 10 mm. (AL Mg5M)
Transom height – 510 mm.(AL Mg5M)
Transversive- longitudinal set – 4 mm. (AL Mg5M)
Hull of grey colour
Deck (AL Mg5M) quintet
Non-slip coating on bow, stern, side deck
Access to the bow deck via the side deck
Permanent fender
Bow grabrails – Ø 30 mm.
Flange grabrails – Ø 30 mm.
Mooring cleats – 4 pcs. (aluminium)
Eye – bolt  – 2 pcs.
Cockpit convertible sleeper sofas (port/ starboard) – 2 pieces. (marine vinyl)
Padded covers in the cabin. Additional sleeping berths. (marine vinyl)
Captain's, navigator's chair (marine vinyl)
Fuel level
Mechanical helm control with steering rope under the engine
Helm with GRIZZLY logo
The glove box on the passenger console
Cabin light – 1 pc.
Socket – 12 V
Shipboard electrical control panel
Fuse box
Ignition key
Navigation lights
Headlight
Electric pump.
Fixing for the battery
Fuel tank – 240 litres.
Anodes – 2 pcs.
View all
Non-standard RAL enclosure colour
Changing the colour of the stickers
Choice of interior colour and furniture
Select colour of the shipping awning
Select colour for transport awning
Select colour for bow awning
Bow awning
Sailor's awning
Shipping awning
Decorative covers on consoles, helm, etc. logos Extra transom for small engine up to 15 hp. Additional transom for small engine over 15 hp
Bow ladder
Aft ladder
Targa made of 30 mm AMG5M pipe.
Carved targa AMG5M 10mm.
Transom platform (crinoline)
Hydraulic steering kit up to 150 hp.
Hydraulic steering kit up to 300 hp.
Hydraulic steering kit over 300 hp
Additional aft deck lighting
Additional forward deck lighting
Fitted forward headlights
Sliding side-glazed windows in the cabin
Remote-controlled headlamp for targa with installation
Headlamp with stern lighting on the reel with fitting
LED navigation lights
Spoilers (with automatic connection option) Automatics for spoilers
Autopilot
Transom plates
Platform for echo sounder
Installation of an echo sounder
Extension of port console for installation of radio system Sound system: wiring, preparing for installation of equipment
Fuel tank enlargement to 300l.
Music: Waterproof box for shipboard audio equipment – 1pc., marine sound speakers – 4 pcs., active antenna – 1 pc., stereo – 1 pc.
Installation of spinning holders cups (with adjustment)
Installation of spinning holders cups (on a ø 38 pipe, welded)
Spinning holders on board
Surface for downrigger ( mechanical )
Surface for downrigger with electrical installation
Electric buzzer (built in)
Electric single-tone horn
Windscreen wiper
Electric pump automatic
Cockpit table + additional base
Additional seating area with locker 1200x450x350mm.
Marine heater cabin Webasto with installation
Height-adjustable rack with skids
Height-adjustable stand with skid (with skid) Fuel separator filter
Additional constructions made of pipe – 25, 30 mm
Anchor retrofitting
Transom height adjustment from 508 to 630 mm.
Engine installation MOTORS:
Mercury 200 L Verado (without equipment) – 1 pc.
Mercury 225 L Verado (without equipment) – 1 pc.
Mercury 250 L Verado (without equipment) – 1 pc.
Suzuki DF 175 TL – 1 kit
Suzuki DF 200 ATL – 1 kit
2 MOTOR SET:
Mercury 115 ELPT EFI – 1 kit
Mercury 115 EXLPT EFI – 1 kit
Mercury 115 ELPT ST – 1 kit
Mercury 115 EXLPT ST – 1 kit
TRAILER
MZSA 822141.502
MZSA 822141.402
* On boats with 80 hp and above, the installation of hydraulic steering is recommended
View all
Additional description
The style of the GRIZZLY G680 PRO TWIN Cruiser is similar to the G680 Twin, which is already well recognised. Traditionally, the entire Pro series is characterised by a greater emphasis on reliability and durability. The GRIZZLY G680 PRO TWIN Cruiser satisfies all of these needs and has its place in the professional Grizzly range.
Comfort and versatility are very important to many boat owners today. By sacrificing the forward cockpit in the traditional layout of the PRO series boats, the result is a cozy and very comfortably habitable cabin, with the soft cushions provided on this model as standard, making for a comfortable sleeper that can accommodate two people. GRIZZLY G680 PRO TWIN Cruiser, having a cabin, has a wider range, on the duration of transitions and trips, the cabin gives the opportunity to spend the night in a boat not caring about finding a night shelter, which greatly increases the time spent on the boat and allows to operate it in the most severe conditions.
This boat, like all GRIZZLY yachts, will definitely stand out when moored in a marina or hauled on the trail. This is for a number of reasons, on the one hand the emphasis on contemporary style and fashion, but more on structural features – painting, modern shapes and a recognizable elongated bow.
A particular detail on the exterior of the hull is similar to the model: the structural bow for the bulkhead. Its external part is covered by a special material – Line-X. It is widely used in the tuning of large four-wheel-drive vehicles and large pickups. Creating a special style, but first of all with special structural properties: increased resistance to abrasion and damage. This is used in the gunwale design, where it is particularly valuable. After all, the classic coating – rubber – tends to quickly become damaged, obsolete, losing its original appearance. The structure of the foresail beam, thanks to its greater thickness, protrudes a little beyond the hull boundaries and performs the function of a spray arrester. This is also unique for a boat of this class. Moreover, such form increases the area of the fenders, which makes it more convenient and safe to sail along the side. Convenient, sturdy grab rails around the perimeter of the entire hull further enhance this. They also offer additional functionality, enabling you to not simply hold on to the boat while moving around, but also to use it to secure loads. And in the upper part of the deckhouse, they serve as additional protection for the navigation lights. This is very important when mooring at a high mooring wall or 'locking', as it will prevent the lights from being damaged in the event of strong rocking.
If, however, you are mooring to a low mooring wall or an inferior boat, an additional, lower fender is fitted to the hull.
The boat has a twin outboard installed on the transom and this is one of the main features of this model, which also reveals the presence of the word twin, in the boat's name. Which means twin propulsion system. With more and more boats being fitted with twin engines, the trend for monopropulsion is gradually fading away, due to a variety of objective reasons. Because a boat with a so called "twin engine" has a lot more manoeuvrability, minimum speed available (this is especially important while fishing or mooring in the marina), the ability to turn while staying in place, more confident handling, not prone to lateral swaying while in motion. Thanks to the two pivot points of the propellers of the engines, twin and mono arrangement can be compared to car and motorbike riding. The difference is that a twin unit gives you the manoeuvrability advantage. What's more, such a setup is also safer. On the one hand, the boat draught is reduced in comparison with a single-engine setup. On the other hand, in case of failure of one of the engines, the second will ensure sufficient speed for return to a safe location. However, the price of such set is more advantageous than a set consisting of a total capacity engine with an auxiliary engine (dockage).
The aft part of the boat is divided into two spacious areas: the swimming platform and the aft cockpit. The swimming platform consists of two spacious crinolines which can be used not only for easy access to the engine, but also for fishing or for enjoying water activities. For the easiest and most comfortable boarding, a heavy duty crossover ladder has been incorporated into one of the crinolines. The cockpit itself is spacious enough.
For the fishermen's convenience there are special lockers along each side where they can store their spinning rods. And above the cockpit you can place a targa for 8-10 spinnings, with glider reels for trolling. The boat concept is ideal for this style of fishing.
The cockpit door is made of durable acrylic. Unlike glass, this material is unbreakable, but also provides excellent visibility from the cockpit and the boat.
Individual configuration
Contact Grizzly specialists to select a complete set according to your wishes and needs